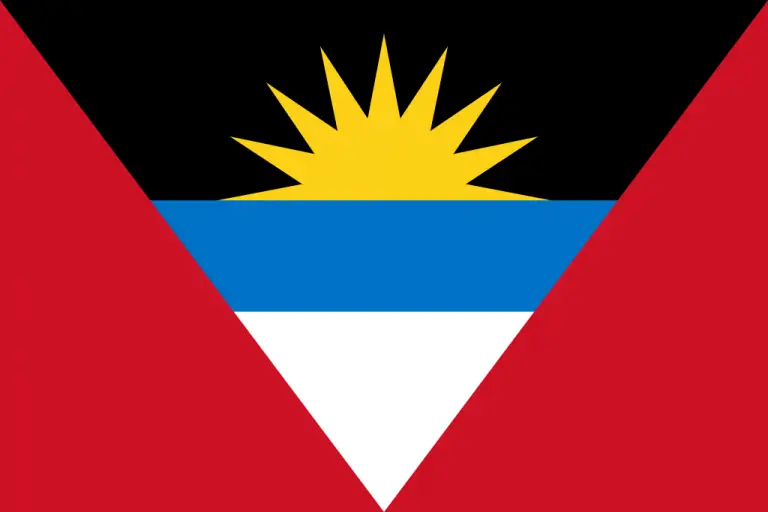 NATIONALITY = ANTIGUAN(S), BARBUDAN(S)

CAPITAL = ST JOHN'S

LOCATION = EASTERN CARIBBEAN SEA

CONTINENT = NORTH AMERICA

LANGUAGE = ENGLISH

POPULATION = 103,746

CURRENCY = EAST CARIBBEAN DOLLARS

AREA = 441 SQ KM (170 SQ MILES)

HIGHEST POINT = MOUNT OBAMA: 402 METERS (1319 FT)

CLIMATE = TROPICAL CLIMATE

CALLING CODE = DIAL 011+268+PHONE NUMBER

DRIVES ON = THE LEFT HAND SIDE OF THE ROAD

TIME ZONE = (GMT-4 HOURS)

RELIGION = MAINLY CHRISTIAN

INDEPENDENCE = NOVEMBER 1st, 1981 (FROM UK)

NATIONAL HOLIDAY = INDEPENDENCE DAY: 1st NOVEMBER 

GOVERNMENT = CONSTITUTIONAL PARLIAMENTARY DEMOCRACY

NATIONAL SPORT = CRICKET

AGRICULTURE = SEA-ISLAND COTTON, SUGAR AND ETHANOL

MAJOR INDUSTRIES = TOURISM, CONSTRUCTION, CLOTHING AND ALCOHOL 

NATURAL RESOURCES = TOURISM AND COTTON
A BRIEF HISTORY OF ANTIGUA & BARBUDA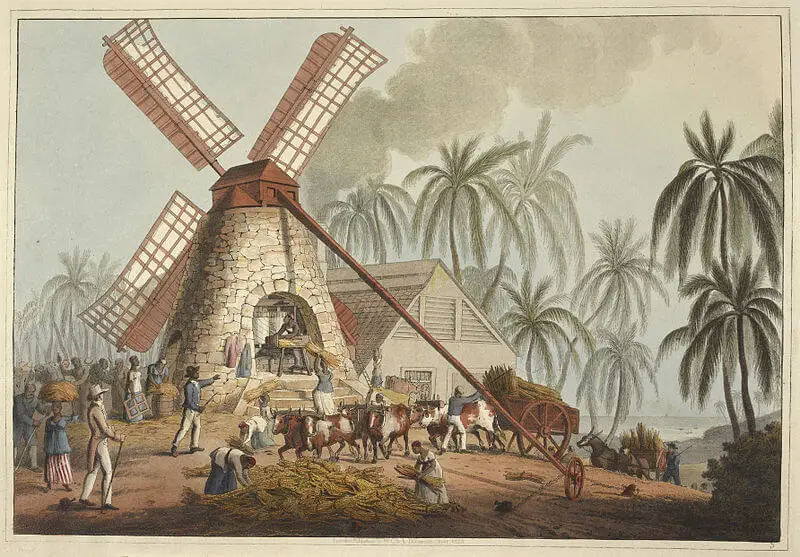 The first known inhabitants of these islands were called the Siboney or "stone people". The earliest settlements date back to 2900 BC. They were succeeded by the Arawak people, who lived on the islands for hundreds of years.
They survived by planting peas, maize, corn and other vegetables and as a result, introduced agriculture to the islands. The Arawak people were subsequently replaced by the superior Island Caribs.
In 1493, Christopher Columbus sighted the islands on his second voyage, naming the bigger island "Santa Maria de la Antigua". For years the Spanish and French tried to conquer the islands, but to no avail, due to the resistance put up by the fierce Caribs.
After many failed attempts at colonization by the Spanish and French, the British arrived on the shores of Antigua in 1632, and finally managed to colonize the island.
By 1667, Antigua was officially a British colony.
Huge amounts of African slaves were imported to work in the sugar industry on the islands, which became very profitable in time, making it the islands economic backbone.
Slavery was abolished in 1834.
In 1860, the smaller island of Barbuda was annexed to Antigua.
Antigua & Barbuda became officially independent on November 1st, 1981, ending over 350 years of British rule, although the nation still belongs to the British Commonwealth.
SHORT FACTS ON ANTIGUA & BARBUDA 
The nation of Antigua and Barbuda is located in the Eastern Caribbean, between the Caribbean Sea and the North Atlantic Ocean.
Antigua and Barbuda is made up of two major islands and several smaller ones, including Great bird, Guiana, Green, Long, Maiden, York and the Redonda islands.
The nearest countries to Antigua and Barbuda are also island nations. They include St Kitts and Nevis, Dominica, Guadeloupe and the British territories of Montserrat and Anguilla.
The largest island Antigua is around 22 km (14 m) long and 18 km (11 m) wide. Barbuda is 24 km (15 m) long and 12 km (8 m) wide.
The distance between Antigua and Barbuda is 62 km ( 38 miles).
The capital of Antigua and Barbuda is St John's. Other major cities in this country are, All Saints, Piggotts, Liberta, Bolands and Potters Village.
Antigua and Barbuda is divided up into six parishes and two dependencies. The six parishes are Saint George, Saint John, Saint Mary, Saint Paul, Saint Peter and Saint Philip. The two dependencies are Barbuda and Redonda.
When Christopher Columbus first saw the larger island of Antigua in 1493, he named it after a church in Seville, Santa Maria de la Antigua.
Antigua and Barbuda both experience tropical storms and hurricanes, they would normally occur between the months of July and October.
In September 2017, Hurricane Irma destroyed 95% of Barbuda's buildings and infrastructure. Its residents had to evacuate to Antigua, leaving Barbuda uninhabited for the first time in its history. Thankfully, life is gradually getting back to normal.
Antigua and Barbuda does not have any permanent rivers.
The climate in Antigua and Barbuda is tropical, hot and humid all year round, with a relatively cool, dry season from January to mid-April.
The two islands are famous for their beautiful, stunning white sandy beaches and clear waters. In Antigua, tourism dominates the local economy, were there is no shortage of high end resorts. Barbuda has the beaches, but doesn't have the infrastructure Antigua has to offer.
Over the years, many ships have been wrecked on the coral Reefs of Antigua and Barbuda, but these days it is very popular with snorkelers and scuba divers.
Antigua is Spanish for "ancient" and Barbuda is Spanish for "breaded".
The highest point on the islands is Mount Obama, named after the former U.S President for his birthday. It is the remnant of a volcanic crater, and it reaches a height of 402 metres (1319 feet). It was originally called Boggy Peak, until 2009.
Antigua is called the "land of 365 beaches", because that's how many it has. One for every day of the year, unless of course it's a leap year.
On the coast of Barbuda, there is a beach called "pink sand beach". The pink champagne colored sand is from the crushed coral.
The Royal Antigua and Barbuda Defence Force has around 250 personnel, which is split between the army and the coastguard.
While both islands are not well known for their wildlife, you can still find all kinds of animals not seen on other Caribbean islands, including deer and wild boar, land turtles and guinea fowl.
Donkey and crab races are popular past times here.
Many a music video is filmed in Antigua and Barbuda, mainly because of its stunning landscape.
Their favorite dessert here is called "duckanoo". It is made from cornmeal, coconut, sugar and spices, which are all boiled up in banana leaves.
The literacy rate is 90% and life expectancy is 77 years.
Carnivals are very popular here, where you'll hear lots of lively music, like Calypso and reggae.
Cricket on these islands is more a religion than a sport. It is played everywhere and at any time. The country has produced many famous players, none more famous than Viv Richards.
Many famous people have holiday homes in Antigua, including rock guitarist, Eric Clapton, fashion designer, Giorgio Armani and TV host, Oprah Winfrey.
In 2015, a new state of the art airport terminal was completed in Antigua, at a cost of $100 million.