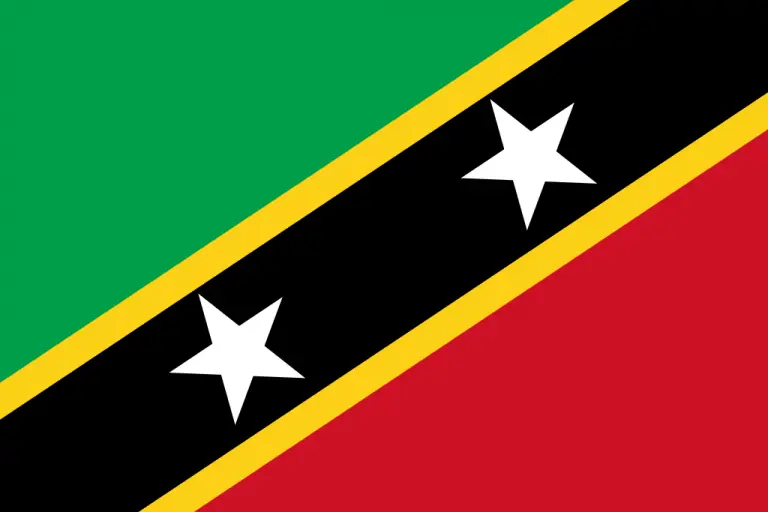 OFFICIAL NAME = THE FEDERATION OF SAINT KITTS AND NEVIS

LOCATION = THE CARIBBEAN SEA

CONTINENT = NORTH AMERICA

CAPITAL = BASSETERRE

OFFICIAL LANGUAGE = ENGLISH

POPULATION = 55,745 (2017)

CURRENCY = EAST CARIBBEAN DOLLARS

AREA = 261 SQ KM (101 MILES)

HIGHEST POINT = MOUNT LIAMUIGA, 3,792 FEET (1,156 METERS)

CLIMATE = TROPICAL, HOT & HUMID

CALLING CODE = DIAL 011+869+PHONE NUMBER

DRIVES ON = THE LEFT HAND SIDE OF THE ROAD

RELIGION = MAINLY CHRISTIAN

GOVERNMENT = FEDERAL PARLIAMENTARY DEMOCRACY

MONARCH = QUEEN ELIZABETH II

NATIONAL SPORT = FOOTBALL (CRICKET)

MAJOR INDUSTRIES = TOURISM, MANUFACTURING AND SUGAR

NATURAL RESOURCES = ARABLE LAND, SUN, SEA, WIND AND SAND

AGRICULTURE = COTTON, COCONUTS, POTATOES, ONIONS AND CABBAGE
A BRIEF HISTORY OF SAINT KITS & NEVIS
Saint Kitts and Nevis is a two island country nation situated between the Atlantic Ocean and the Caribbean Sea.
When Christopher Columbus first discovered the islands on his second voyage to the New World in 1493, they were inhabited by the Carib people.
The island known today as St Kitts was originally called "Liamuiga," meaning "Fertile Island" by the Caribs, however Christopher Columbus renamed it St Christopher after his patron saint.
The British renamed it Saint Kitts when they settled there in 1623, under Sir Thomas Warner. They also established a colony on Nevis in 1628.
Like many islands in the region, their economy was fueled by sugar and enslaved Africans who worked on the plantations.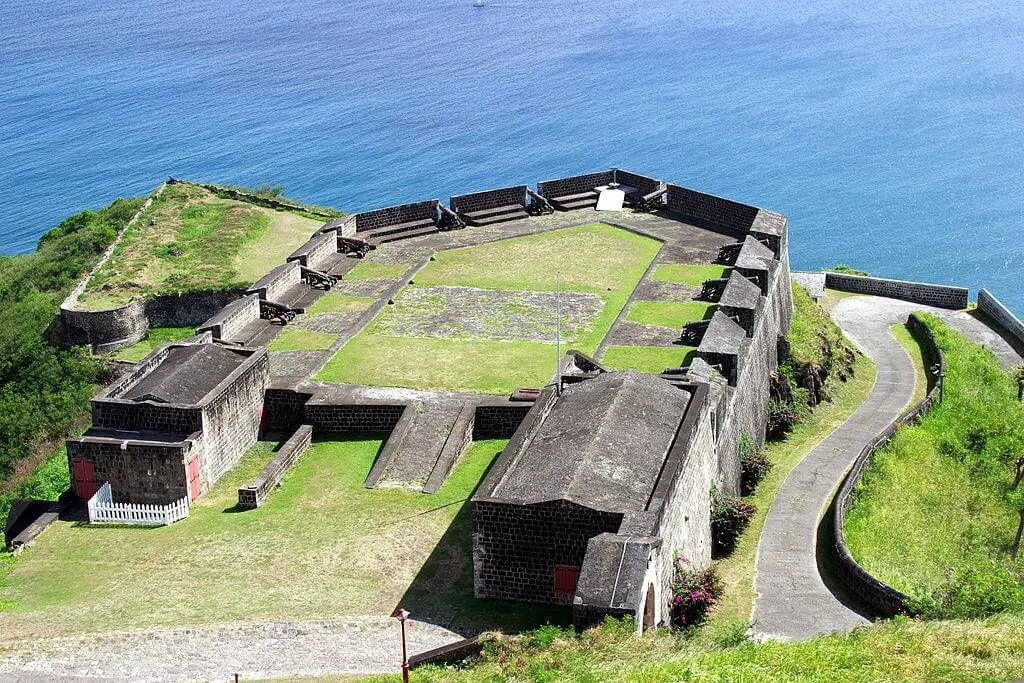 In 1627, the French also settled on St Kitts, which led to a bitter rivalry that would last for well over a hundred years. In 1782, the British had a decisive victory over the French at Brimstone Hill. The two islands were now under permanent British control.
In 1983, Saint Kitts and Nevis became an independent country on condition that they remain a country of the Commonwealth, with Elizabeth II as Queen and head of state.
Today, most of the inhabitants on both islands are the descendants of African slaves.
SHORT FACTS ON SAINT KITTS AND NEVIS
Saint Kitts and Nevis is the smallest country in North America, both in area and population.
The west side of Saint Kitts and Nevis borders the Caribbean Sea, and the eastern coast faces the Atlantic Ocean.
Both Saint Kitts and Nevis represents one country, the Federation of Saint Kitts and Nevis. There is also a smaller island called Bobby island, which has no inhabitants.
The distance between Saint Kitts and Nevis is 27 km (16.7 miles).
Like many of their neighbors, both Saint Kitts and Nevis were formed by Volcanoes, which are now dormant.
The climate in St Kitts and Nevis is hot and humid all year round. It has Sea water temperatures of 20° C or 79° F.
The terrain of Saint Kitts and Nevis is volcanic with mountainous interiors. Both islands are grateful of their lush tropical vegetation, thanks to the rich soil.
It's said that St Kitts is so fertile that even the monkeys are green. These monkeys are called Vervet's, and you will see colonies of them here. They were introduced to the island by settlers.
Thousands of tourists go to Saint Kitts and Nevis each year to relax, hike, ride horses and go diving and snorkelling. There are lots of old ruins, stone churches and quaint villages. You will also get to explore their lush mountains, stunning landscapes and divine beaches.
Saint Kitts is home to plenty of incredible golf courses, and has their very own modern stadium, Warner Park, which gets packed out on big sporting occasions, such as the West Indies cricketers when they play there. The nation has their own team, called the St Kitts and Nevis Patriots, who play in the Caribbean Premier League.
Saint Kitts and Nevis has over 135 kilometers (84 miles) of stunning coastline.
Saint Kitts and Nevis has two airports. (St Kitts airport and Nevis airport).
The only port and terminal can be found in Basseterre, on the island of Saint Kitts, however a seaport facility is being constructed in Long Point, on Nevis island for cargo boats, and will also provide a berth for mini cruise ships.
Saint Kitts and Nevis's major exports is electronics, food, machinery, beverages and tobacco. The economy is based largely on sugar cultivation and tourism.
Sugar cane was so important for hundreds of years here, such to the extent that St Kitts was known as sugar-cane island, and is still commonly known today as Sugar City.
The capital city is Basseterre, which is situated on the main island of St Kitts.
Saint Kitts and Nevis is divided into 14 parishes. There are nine on Saint Kitts and five on Nevis.
Nevis Island is responsible for its own internal affairs, and has two seats in the federal parliament.
Nevis Island is surrounded by stunning coral reefs, and is mostly made up of a single mountain, with a height of 3,232 feet.
Nevis Island got its name from Christopher Columbus, because it looked like a snow capped mountain. The Spanish word for snow is "nieves".
Nevis Island grows more than 50 different kind of mangoes.
The people who live on Saint Kitts are called Kittitian(s), and those who live on Nevis are called Nevisian(s).
Cannabis is very common in Saint Kitts and Nevis, much more common than cigarettes.
Up until the 19th of December, 1980, the official name of Saint Kitts and Nevis was Saint Christopher, Nevis and Anguilla. The island of Anguilla stayed a British overseas territory, while St Kitts and Nevis became an independent country of the Commonwealth in 1983.
In 1626, the Kalinago Genocide occurred at Bloody Point. This is when both the British and French troops combined to kill about 2000 native Carib people (kalinago). It was said that the blood from the Carib people ran down the Bloody River for up to three days.