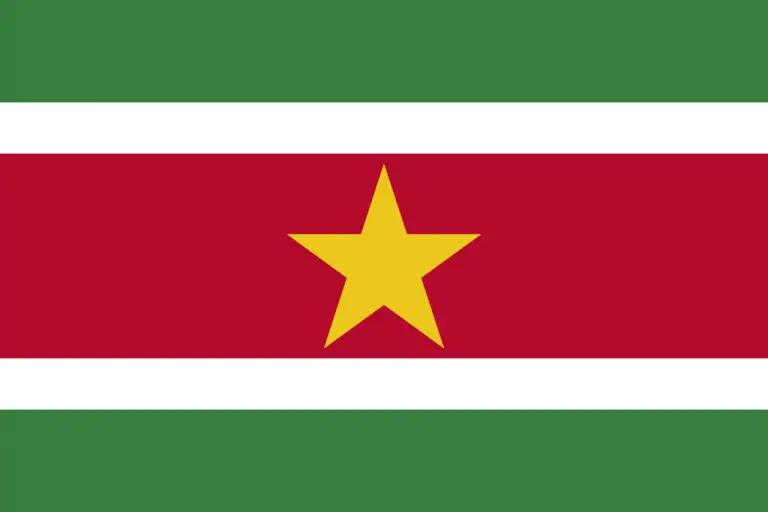 The Republic of Suriname is a small country located in the northern region of South America on the coast of the Atlantic Ocean. It is known as the smallest sovereign state in South America.
Formerly know as Dutch Guiana, Suriname was a colony of the Netherlands that gained its independence on November 25th, 1975. Suriname is the only country in South America where Dutch is the official language. The capital and largest city in Suriname is Paramaribo.
SHORT FACTS ON SURINAME !!! 
OFFICIAL NAME = REPUBLIC OF SURINAME

NATIONALITY = SURINAMER(S)

HEMISPHERES = NORTHERN AND WESTERN

CONTINENT = SOUTH AMERICA

CAPITAL = PARAMARIBO

LARGEST CITIES = LELYDORP, BROKOPONDO AND PARAMARIBO

OFFICIAL LANGUAGE = DUTCH (SRANAN TONGO)

POPULATION = 558,368

CURRENCY = SURINAMESE DOLLARS

AREA = 163,820 SQ KM (63,251 SQ MILES)

CLIMATE = TROPICAL (DRY AND RAINY SEASONS)

HIGHEST POINT = JULIANATOP, 1,280 METERS (4,199 FT)

MAJOR MOUNTAINS = WILHELMINA MOUNTAINS

MAJOR RIVERS = LITANI, COURANTYNE AND MARONI RIVERS

CALLING CODE = DIAL 011+597+PHONE NUMBER

TIME ZONE = (GMT-3 HOURS)

RELIGION = MAINLY CHRISTIANITY

INDEPENDENCE = 25TH, NOVEMBER 1975 (FROM THE NETHERLANDS)

NATIONAL HOLIDAY = INDEPENDENCE DAY, 25TH NOVEMBER

NATIONAL SYMBOL = COAT OF ARMS

POPULAR SPORTS = FOOTBALL, BASKETBALL AND VOLLEYBALL

GOVERNMENT = CONSTITUTIONAL DEMOCRACY

NATURAL RESOURCES = TIMBER, HYDROPOWER, FISH, FORESTS, KAOLIN, SHRIMP, BAUXITE, IRON ORE, COPPER AND GOLD

AGRICULTURE = RICE, SUGAR, PLANTAINS, BANANAS, COCONUTS, CITRUS FRUITS, COFFEE AND PALM OIL

MAJOR INDUSTRIES = BAUXITE AND GOLD MINING, FOOD PROCESSING, LUMBER AND ALUMINUM PRODUCTION

MAIN EXPORTS = ALUMINA, GOLD, CRUDE OIL, SHRIMP, LUMBER, RICE,

 BANANAS AND FISH

MAIN IMPORTS = MACHINERY, FOOD, FUEL AND CLOTHING
A BRIEF HISTORY OF SURINAME !!!
When Christopher Columbus first sighted the coastline in 1498, it had previously been inhabited by Native American Arawak and Carib tribes.
When the first Europeans visited the region in 1500, it was inhabited by indigenous people called the "Surinen" (from whom the country's name derives).
Up until the first half of the 17th century, the British, French, Spanish and Dutch all tried to form settlements in Suriname, but to no avail, mainly because of the resistance put up by the natives.
In 1651, the British were the first to establish a settlement, however in 1667, the British traded Suriname with the Dutch for their colony in North America (New York).
Over time the Dutch brought in thousands of African slaves and later contract laborers from India to work in the coffee and sugarcane plantations.
The capital city of Paramaribo is home to people from many parts of the world, whom are descendants of these slaves and contract laborers.
Suriname remained under Dutch rule until its independence in 1975.
Since independence from the Dutch in 1975, Suriname has faced serious political and economic challenges, while they have also endured several coups and a civil war.
INTERESTING FACTS ON SURINAME !!!
Suriname is the smallest independent country in South America.
Suriname was formerly known as Dutch Guiana. This changed in 1975 when they gained independence from the Netherlands.
In 1667, the Dutch obtained Suriname from Britain, by trading it for another piece of land in North America. This piece of land is now called New York city.
Suriname borders the North Atlantic Ocean to the north, French Guiana to the east, Guyana to the west and Brazil to the south.
Suriname has a coastline that stretches 386 kilometers (239 miles) long.
Paramaribo, the capital and largest city of Suriname, has a population of roughly 250,000 people, almost half of the whole population.
The historic inner city of Paramaribo was declared a UNESCO world heritage site in 2002. Here you will find many beautiful old Dutch, French, Spanish and British colonial buildings.
Suriname still retain strong links with the Netherlands, even though they are an independent nation. The Netherlands is home to 350,000 people of Surinamese descent.
Two of the most famous dutch footballers, Ruud Gullit and Nigel de Jong are of Surinamese descent.
The Central Suriname Nature Reserve, which covers nearly 3,950,000 acres (1,600,000 hectares), is one of the largest protected areas of rainforest in the world. It was designated a UNESCO world heritage sight in 2000.
Suriname calls itself the "beating heart of the amazon".
Suriname is covered by approximately 80 percent of moist highland forests. It has up to 5000 different plant species. It is very rich in flora and fauna.
There is plenty of timber resources in Suriname, due to all its forestry.
Suriname has a tropical climate with dry and rainy seasons. The rainy season takes place from April to July. The average daily temperature varies between 21-32 degrees Celsius (70-90 degrees Fahrenheit).
Suriname is blessed with numerous rivers, rapids and waterfalls that are all interconnected by a remarkable system of channels, that all flow into the Atlantic Ocean.
Common predators that can be found in Suriname are tigers, jaguars, cougars, raccoons, ocelots, piranhas and over 65 species of bats. Additionally you can also find, the capuchin monkey, the howler monkey, the water hog, the agouti and the guinea pig.
Suriname is rich in amphibians, such as toads and frogs. It is also rich in reptiles, such as the rattlesnake , the anaconda, the boa constrictor, caimans, lizards and the iguana.
Suriname is home to one of the world's largest nesting population of leatherback sea turtles. The females return to Galibi Nature Reserve every year to the same nesting site.
Hundreds of years ago, many of the slaves brought over by the Dutch to work on the plantations escaped and hid in the forests of Suriname. These slaves would one day marry people from the local tribes. Nowadays these descendants are known as Maroons.
In Suriname, cassava is a root vegetable which is very popular. The Maroon women makes cakes from them, baking them over a fire in a large pan.
The national dish of Suriname is chicken with rice.
The drinking water in Suriname is said to be one of the most purest and tastiest.
The literacy rate in Suriname is 95 per cent, and the life expectancy is 72.5 years.
Although the country faces political and economic challenges, it also enjoys a relatively high standard of living.  As a matter of fact, an average middle income family owns three or more vehicles, making it the most cars per capita in the whole world.
The bauxite industry, is the main economy of Suriname. Their main trading partners are, the United States, Canada, Netherlands and other Caribbean countries.
You cannot get married in Suriname if you are under the age of 30, and you don't have written permission from your parents.
The rainforest is similar to a chemist shop in Suriname. Native doctors, commonly known as shamans, produce medicines from the jungle plants.
Suriname receives up to 300,000 tourists every year. The combination of tropical rainforests, quaint villages, roaring rivers, and great ethnic diversity, has seen the amount of visitors increase year after year.