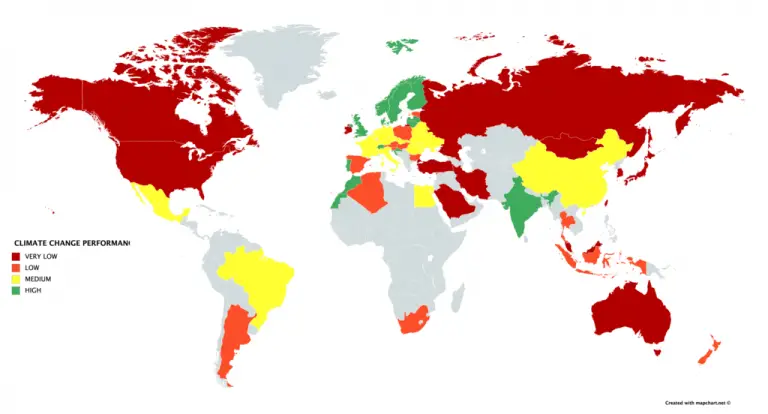 CLIMATE CHANGE  (GLOBAL WARMING) !!!
GLOBAL WARMING IS CHANGING OUR PLANET !!!
Global average temperatures started to rise in and around the 1900's. They have risen and fallen many times since then, but slowly and slowly the trend has crept upwards, but more rapidly since the 1970's.
Global temperatures by the end of the century will reach levels not seen in 50 million years, if greenhouse gas emissions are not significantly reduced, a recent survey has warned.
The rise in temperatures as it happens, matches the rise of our modern industry, the growth of huge cities and the increasing demands of fuel, such as coal and oil, that we burn to provide energy for heating, electrical power, and transportation.
The last century has seen an average global air temperature rise of nearly 1.4°F (0.8°C). This might not sound like much, but 200 centuries since the peak of the last ice age, the world has warmed by only 7°F (4°C).
Scientists nowadays can use numerous techniques to compare current temperatures and rates of change, with those of distant past.
Some of the best evidence comes from samples of ice removed from the Antarctic ice sheets. These ice cores contains air bubbles trapped over the past 650,000 years. These bubbles give a measure of local air temperature over that time, and will tell us the difference in the temperature of today.
VARIOUS CAUSES OF CLIMATE CHANGE !!!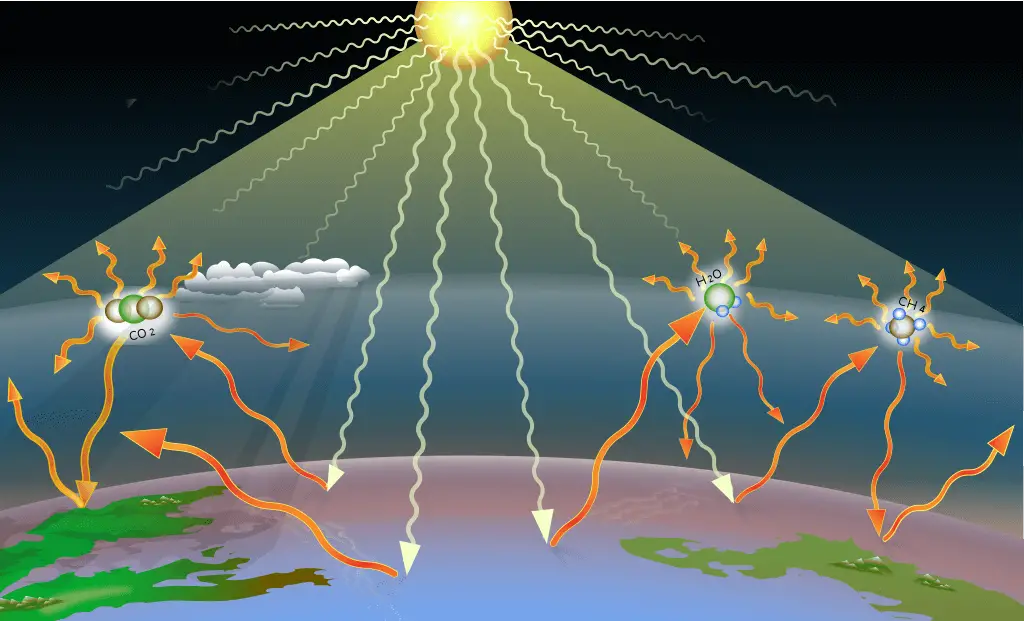 Climate change is caused by a combination of factors, but the most important is the increase of greenhouse gases in the atmosphere.
Greenhouse gases are gases that can trap heat. They actually get their name from greenhouses. A greenhouse is a house made of glass. The walls and the roof are all made up of glass. It traps the Sun's energy inside, keeping it nice and warm, even in the winter. The heat is trapped by the glass and cannot escape, leaving it nice and warm during the day, and even at night time as well.
Earth's atmosphere does exactly the same thing as the greenhouse. The gases, especially carbon dioxide, let the sunlight pass through the atmosphere, but they prevent the heat that accompanies the sunlight from leaving the atmosphere.
In reality, the greenhouse gases are actually a good thing, because without them our planet would be to cold, and life could not exist. The gases is what keeps our Earth a warm and cozy 59°F, on average.
EXAMPLES OF GREENHOUSE GASES !!!
CARBON DIOXIDE !!!
Carbon dioxide (CO2) is released when burning fossil fuels, like coal and oil. It's the most important contributor to human-caused global warming.
CO2 is also added to the atmosphere naturally from decaying and living organisms, when a forest fire occurs and from volcanoes when they erupt.
CO2 is made up of carbon and oxygen, and is all around us. In its solid state, it is called dry ice.
METHANE !!!
Methane gas traps a lot of heat. It is released into our atmosphere from wetlands, growing rice, raising cattle, using natural gas and mining coal.
Methane is composed of carbon and hydrogen.
OZONE !!!
Ozone gases can be formed by burning gas in cars and factories. In the atmosphere, the ozone layer gases blocks the sun's radiation, thus helping to protect us from the sun's powerful rays.
NITROUS OXIDE !!!
Nitrous Oxide is released by certain types of factories, power plants and plant fertilizers. It actually damages our protective o-zone layer. It's a very powerful greenhouse gas.
It is commonly known as laughing gas or nitrous.
CHLOROFLUOROCARBONS !!!
Found in refrigerants, cleaning solvents, aerosol propellants and in the manufacture of plastic foams.
WATER VAPOR !!!  
Water vapor blocks heat from escaping, so it gets warmer.
HOW WE ARE CONTRIBUTING TO CLIMATE CHANGE !!!
The most basic of all fuels is wood, of which most people burn to keep warm and to cook their food. This practice has been going on for thousands of years.
Nowadays with the world's population increasing, so has the amount of wood that is been burned. At the same time, vast forests are being cut down to clear land for ranching, farming and road building. This is contributing to the climate change, by releasing all the carbon that the forest trees have absorbed over their lifetimes.
In the 1700's, people started mining coal, which helped to fuel the rise of modern industry. This included the steam locomotives and the steamships of the 1800's.
Then came the 1900's, natural gas and oil were developed into fuels for vehicles and air crafts. All these are carbon rich fossil fuels, and are used these days to generate the electricity that powers our modern lives.
The burning of these fossil fuels release gases into the atmosphere and they act like an invisible blanket, trapping heat from the Sun, an in doing so, heats up our planet.
Deforestation and the use of fossil fuels are not the only human activities causing global warming. There are many more aspects of modern life adding to the problem.
The immense quantities of garbage that every country generates is either burned or buried, thus, releasing the potent gas methane into the atmosphere.
Even cattle ranching has its effect on the atmosphere, as cows produce a lot of methane gas as they digest their food. So if their is 1.5 billion cows on Earth, that's a lot of methane gas being released into the atmosphere.
Around 10%-15% of  the total worldwide methane emissions comes from rice fields.
Nitrous oxide gas is released from the artificial fertilizers that farmers spread in their fields.
When old fridges are thrown out, the gas in it must be carefully removed before it escapes into the atmosphere.
Airborne soot, cement production plants, and aerosols are just a few more examples of what is giving rise to changes in our global climate.
HOW WILL CLIMATE CHANGE AFFECT THE PLANET !!!
Scientists these days are studying weather and climate data with the use of orbiting satellites. The outcome shows that global temperatures are rising, with hot or dry weather getting more frequent. A warmer climate could effect our planet in a number of ways.

10 examples of what we can expect if our planet keeps heating up. !!!
HEATWAVES

DROUGHT AND FAMINES

DESERTIFICATION

WILDFIRES

SHRINKING LAKES

RISING SEA LEVELS

SHRINKING SEA ICE

CHANGING SEASONS

HURRICANES AND CYCLONES
OTHER EXAMPLES !!!
Then you have the human toll. Heat can be a killer with extreme high temperatures, leaving the elderly vulnerable.
Then you would have the casualties from storms, floods, and hurricanes, let alone the havoc and devastation they cause.
In the long term, many plants and animals will not be able to cope with the changes, and will eventually become extinct.
The animals that hunt or breed on the sea ice in the Arctic are most at risk from extinction, as the ice is shrinking each year. If global warming continues at the rate it is, scientists reckon the sea ice in the Arctic could disappear completely by 2070. The most vulnerable animal is the polar bear, who is specialized for hunting on the sea ice, so if the ice vanishes, the polar bear may vanish with it.
HOW  WE CAN PREVENT CLIMATE CHANGE !!!
We must stop global temperatures from rising if we are to reduce the risk of catastrophic events in the future. Since climate change is a global problem, it requires global action.
Experts agree that we must cut global greenhouse gas emissions by 60% by 2050. Agreements are being forged to combat climate change, like the big oil companies funding research into alternative energy.
With the technology of today, everyone can play their part. We have many new ways we can go about life as normal, without causing more damage to our atmosphere.
We have nuclear energy and renewable energy, such as wind farms and wind turbines to generate electricity.
We use the Sun now for heating water, using solar panels. We have solar electricity, and even energy saving bulbs. There is plenty of more exciting proposals, but they are still at the design stage.
Everyone is helping and you can help as well, even if it is turning of electrical items when you're not using them, recycling, walking instead of using the car, reducing your food waste or grow a tree. It all helps folks !!!
At the COP26 conference held in Glasgow, Scotland, more than 100 countries have joined an effort led by the United States and the European Union to slash emissions of the potent greenhouse gas methane 30% by 2030 from 2020 levels, an initiative aimed at tackling one of the main causes of climate change. They have also pledged to halt and reverse deforestation and land degradation by the end of the decade.