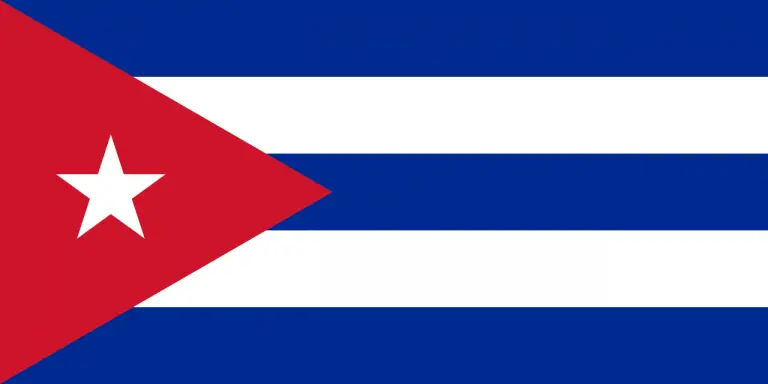 Cuba belongs to the North American continent, and shares maritime borders with the Bahamas, Haiti, Honduras, Jamaica, Mexico, and the United States. Cuba is the largest of all islands in the Caribbean. There are also more than 4,000 other smaller islands and cays that are  part of the country.
Cuba and three other islands, Jamaica, Hispaniola, and Puerto Rico, together make up the Greater Antilles island chain. Havana, located on the island's northwest coast, is the largest city and capital.
SHORT FACTS ON CUBA !!!
OFFICIAL NAME = REPUBLIC OF CUBA

LOCATION = NORTHERN CARIBBEAN

NATIONALITY = CUBAN(S)

CAPITAL = HAVANA

MAJOR OTHER CITIES = SANTIAGO DE CUBA, HOLGUIN AND CAMAGUEY

CONTINENT = NORTH AMERICA

OFFICIAL LANGUAGE = SPANISH

POPULATION = 11,489,082 MILLION

CURRENCY = CUBAN PESOS

AREA = 110,860 SQ KM (42,803 SQ MILES)

HIGHEST POINT = MOUNT PICO TURQUINO 1,974 METERS  (6,476 FEET)

MAIN RIVERS = THE RIVER CAUTO, TOA  AND GUAMA

MAIN MOUNTAINS = SIERRA MAESTRA MOUNTAINS

CLIMATE = SUB-TROPICAL

CALLING CODE = DIAL 011+53+PHONE NUMBER

RELIGION = MAINLY ROMAN CATHOLIC

INDEPENDENCE = 20TH MAY 1902 (FROM SPAIN)

GOVERNMENT = SOCIALIST REPUBLIC

NATIONAL SPORT = BASEBALL

MAJOR INDUSTRIES = PHARMACEUTICALS, SUGAR, TOBACCO, PETROLEUM, NICKEL, STEEL, CEMENT AND AGRICULTURAL MACHINERY

NATURAL RESOURCES = ARABLE LAND, NICKEL, IRON ORE, CHROMIUM COBALT, COPPER, SALT, TIMBER AND SILICA

AGRICULTURE = SUGARCANE, CITRUS, COFFEE, RICE, POTATOES, LIVESTOCK AND TOBACCO
A BRIEF HISTORY OF CUBA !!!
Around one thousand years ago the Taíno, Arawaken-speaking people arrived in Cuba, settling in most of the region, growing maize, tobacco, and cotton. The Taínos were skillful farmers, weavers and boat-builders.
The Taínos led a quiet and peaceful life and were completely unprepared for the horror that was to unfold by the Spanish conquest.
In 1492, Christopher Columbus arrived on the shores and claimed the land for Spain.
In 1511, the Spanish conquest began under the leadership of Diego de Velasquez, establishing Baracoa and other settlements.
The Spanish forced the Taíno into slave labor. Many of them died from hardship, violence, and infectious diseases, that was brought over by the Europeans, to which they had no immunity.
In 1526, the Spanish shipped in thousands of African slaves to continue the grueling physical labor. Most of the slaves worked on sugar plantations and in the sugar mills.
In the early 1800's, thanks to the work of the slaves, Cuba's sugarcane industry was booming.
The first war of Cuban independence, also known as the Ten Year's War, began in 1868. It lasted until 1878, with the promise to end slavery in Cuba (promises they never met).
A second war of Cuban independence, known as "The Little War", began in 1879, but it was easily quelled by the superior Spanish forces in 1880.
Slavery was finally abolished in 1886, with the Spanish promising reform and better conditions (more promises they never met).
In 1898, American troops provided assistance to expel the Spanish out of Cuba, forcing them to give up any claim to Cuba.
The Cuban Republic was established in 1902, which ended U.S military presence in their country, although it still allows them to have a strong influence in their affairs.
Next came the Cuban revolution in 1959, when guerrilla fighters, led by Fidel Castro and Che Guevara overthrow Cuba's leader at the time, Fulgencio Batista.
Fidel Castro had become good friends with the Soviet Union. He tried to cut all ties with the U.S., whilst proclaiming that Cuba's new government was now socialist.
This annoyed the U.S., who attempt to invade Cuba to regain control of it, and overthrow the communist led government. However, this failed, and in 1965 the Communist Party of Cuba was established, and has ruled the country up until this very day.
INTERESTING FACTS ON CUBA !!!
Cuba is a long and narrow island. It stretches 1,250 km (777 miles) from northwest to southeast. While, at its widest, it stretches only 191 km (119 miles), down to its narrowest point of just 31 km (19 miles).
Cuba is often referred to in Spanish as "El Cocodrilo" or "El Caima". This is because from the air, the island of Cuba resembles a crocodile or alligator.
Cuba has maritime borders with the Bahamas, Haiti, Honduras, Jamaica, Mexico and the United States.
Cuba is situated to the south of the United States, there is only 90 miles of ocean between Cuba and the tip of Florida.
The main island in Cuba is known as the Isla de la Juventud.
A cay is a small, sandy island on the surface of a coral reef.
Cuba is a stunning country with many different habitats, from mountain forests to jungles, grasslands and even deserts. You will also find more than 300 white sandy beaches, lapped by turquoise seas and stunning landscapes.
Cuba is a very safe place for tourists compared to other parts of the Caribbean. There is little gun crime, violent robberies, or no-go zones.
In Cuba, there a around 100 different species of palm trees.
Although Cuba is teeming with wildlife, it has no known harmful animal inhabitants that visitors must watch out for. It has no large predators to boast of, but it is home to some small and unique creatures that you will not find anywhere else in the world, such as the Cuban solenodon, the Cuban trogon, the Cuban huita, the Cuban round iguana, and the Cuban tody.
The mountain ranges of Cuba are the Sierra Maestra, the Sierra Cristal, the Escambray, and the Sierra del Rosario. The Pico Turquino mountain in the Sierra Maestra range, has the highest peak of them all. It is 6,650 ft (1,999 mt), and is the highest point in Cuba.
In 1962, the world came very close to a nuclear war during the Cuban Missile Crisis, when Russia put atomic missiles in Cuba. The USA response was get them out or else. Thankfully they did after a tense stand-off.
In 2008, Fidel Castro resigned as the President of Cuba. He had held the position for 49 years.
Fidel Castro claimed he has survived over 600 attempts on his life, mainly from the CIA.
It is illegal to take photos of police officers, military personnel, or airport personnel in Cuba.
Both men and women between the ages of 17-28 must serve two years of service in the Cuban military.
Cubans radio and TV networks are both owned by the Cuban government.
Cubans were not allowed to own mobile phones until 2008.
Over one million Cubans have moved to the United States since Fidel Castro established the Communist Party in 1965.
In 2015, the Cuban and U.S governments restored diplomatic relations, after 54 years of division.
Since 1903, the United States has had a naval base at Guantánamo Bay on the island of Cuba.
Sugar, from sugar cane, is the main crop grow in Cuba. Next is tobacco, which is used in the making of the famous hand-crafted Cuban cigar. More than 70 million of these are exported every year.
Besides baseball, Cubans love their boxing, basketball, volleyball, football and athletics. Dominoes is also very popular in Cuba.
One of Cuba's biggest export is nickel. In 2011 alone, it made up twenty-one percent (21%) of all exports.
The literacy rate in Cuba is a whopping 99.8%, the highest in the whole world.
It has only snowed once in Cuba, it happened in 1857.