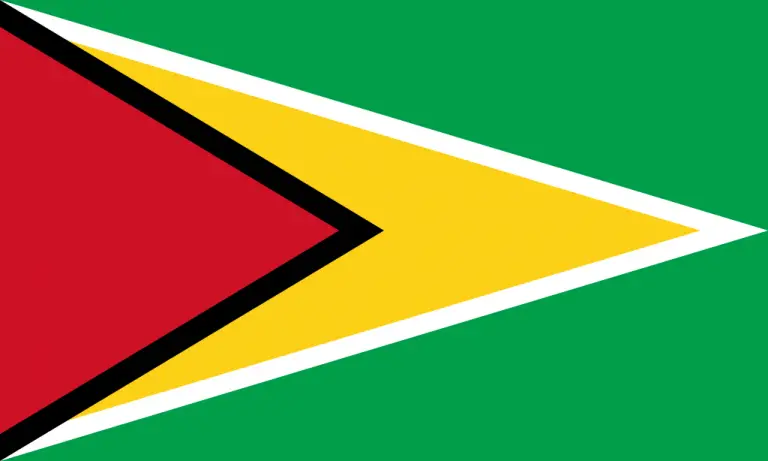 Guyana, officially known as the Co-operative Republic of Guyana, is a country located in the northeastern corner of South America.
Guyana is bordered by Brazil to the south and southwest, Venezuela to the west, Suriname to the east and the Atlantic Ocean to the north.
It is the third smallest country in South America, after both Uruguay and Suriname.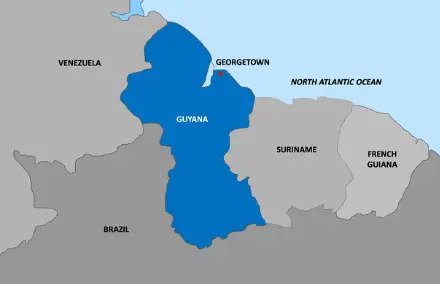 OFFICIAL NAME = CO-OPERATIVE REPUBLIC OF GUYANA

NATIONALITY = GUYANESE

HEMISPHERES = NORTHERN AND WESTERN

CONTINENT = SOUTH AMERICA

CAPITAL = GEORGETOWN

MAJOR CITIES = LINDEN, NEW AMSTERDAM AND GEORGETOWN

OFFICIAL LANGUAGE = ENGLISH

POPULATION = 785,455

CURRENCY = GUYANESE DOLLARS

AREA = 214,969 SQ KM (83,000 SQ MILES)

CLIMATE = WARM AND TROPICAL

DRIVES ON = LEFT HAND SIDE OF ROAD

CALLING CODE = DIAL 011+592+PHONE NUMBER

TIME ZONE = 4 HOURS BEHIND GMT

HIGHEST POINT = MOUNT RORAIMA 2,810 M (9,220 FT)

LOWEST POINT = ATLANTIC OCEAN (O METERS)

MAJOR MOUNTAINS = ACARAI, IMATAKA AND KANUKU MOUNTAINS

MAJOR RIVERS = COURANTYNE, ESSEQUIBO AND CUYUNI RIVERS 

RELIGION = MAINLY CHRISTIANITY AND HINDUISM

INDEPENDENCE = 26 MAY, 1966 (FROM THE U.K)

NATIONAL HOLIDAY = REPUBLIC DAY: 23 FEBRUARY (1970)

NATIONAL SYMBOL = COAT OF ARMS

MAIN SPORTS = CRICKET AND FOOTBALL

GOVERNMENT = PARLIAMENTARY REPUBLIC

MAIN INDUSTRIES = AGROPROCESSING AND MINING

NATURAL RESOURCES = MINERALS (GOLD,BAUXITE)

MAIN EXPORTS = AGRICULTURE AND MINING

MAIN IMPORTS = MACHINERY, PETROLEUM AND FOOD

AGRICULTURE = RICE, SUGAR, COFFEE, COCOA, EDIBLE OILS,




VEGETABLES, TOBACCO, FRUIT AND CATTLE
A BRIEF HISTORY OF GUYANA !!!
Before the arrival of the Europeans, present-day Guyana was inhabited by the Carib and Arawak tribes. It was these who called the region Guiana, which means "land of water." Over the next couple of centuries, the British, Spanish, French, and Dutch all fought to own and control this territory.
In 1831, the land was ceded to Great Britain at the congress of Vienna, and was aptly named British Guiana. Prior to this, during the centuries of all the wrangling over Guyana, slavery had become a major part in the country, due to the fact the country was rich in sugar resources.
By the time slavery was abolished in the late 1800's, Guyana was home to many people of color, and with the need for plantation workers, it also brought a large wave of immigrants to their shores, mainly east Indians.
Guyana would eventually gain their independence from Great Britain in 1966, and it would later become a republic in 1970.
Today in Guyana, due to the exploitation of slaves and the immigrants over the years, around half of the population is of East Indian descent, and around 36% are of African descent.
INTERESTING FACTS !!!
Guyana is bordered by Brazil to the south and southwest, Venezuela to the west, Suriname to the east and the Atlantic Ocean to the north.
It is the third smallest country in South America, after both Uruguay and Suriname.
Guyana is divided into three counties, Essequibo, Demerara and Berbice.
Georgetown is both the capital and largest city of Guyana. It has also been giving the nickname the "Garden City of the Caribbean."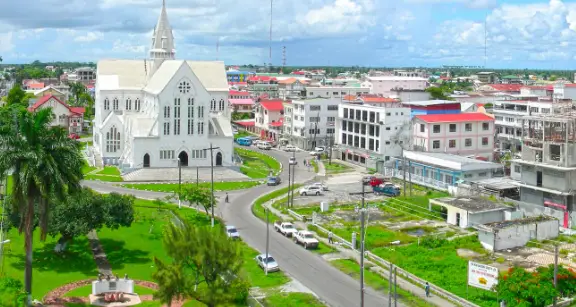 Guyana is regarded as one of South America's poorest countries, however, this could all change very quickly, as big companies have discovered vast oil reserves off the coast of the country.
Guyana has a coastline that stretches 459 kilometers (285 miles) long.
It is the only South American country with English as the official language.
Up to this day, Guyana is still having territorial disputes with both Suriname and Venezuela.
Republic Day, also known as Mashramani, is a national holiday in Guyana. Normally held on the 23rd of February, it celebrates Guyana becoming a Republic in 1970. A festival is held on the day every year to commemorate the "Birth of the Republic."
Like the movie "Avatar," Guyana has been called "Avatar on Earth," mainly because more than 80% of the country is covered in thick forest, and in these forests, it contains up to 800 different species of plants, most of which will not be found anywhere else in the world.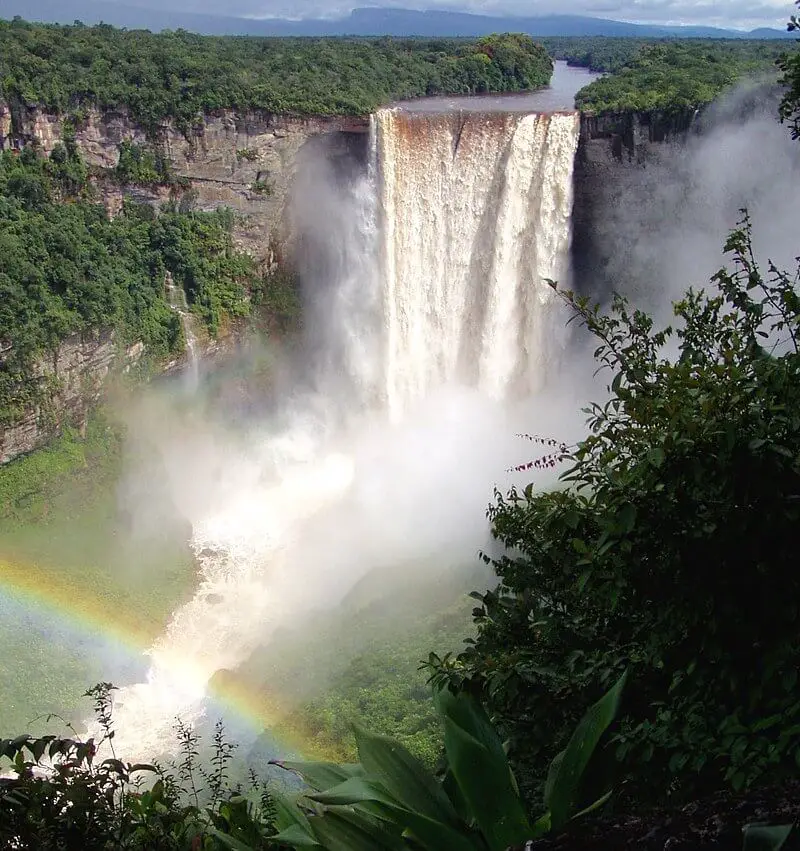 The Kaieteur Falls in Guyana, is one of the world's most powerful waterfalls. At a height of 226 meters (741 feet), it is five times higher than Niagara Falls. It's one of the most incredible natural wonders of South America, if not the world.
The home of the Kaieteur Falls, is the Kaieteur National Park. It was established in 1929, and has an area of 62,680 hectares (154,855 acres). Nowadays, it's the oldest and most protected area of Guyana.
There is an abundance of wildlife in Guyana. With their dense jungles and amazing river systems, it creates a perfect habitat for the likes of the elusive jaguar, the capybara, the black caiman, the giant anteater, the giant river otter and the harpy eagle.
There is also more than 800 species of reptiles, 225 species of mammals, and more than 900 different species of birds to be found in this land of paradise.
The national bird of Guyana, the Hoatzin, is also called the "stinkbird." It stinks so bad it keeps predators away.
In the waters of Guyana, you will find one of the most ferocious freshwater fish in the world, the red bellied piranha. It can grow up to 12 inches, and it's razor sharp teeth strips the flesh from prey and dead animals.
Guyana experiences two rainy seasons per year, May – August, and November – January.
One of the Guyanese national dishes is the pepperpot. It's a stewed meat dish, which is strongly flavored with cinnamon, cassareep, and hot peppers. Another favorite dish of theirs is chicken curry and rice.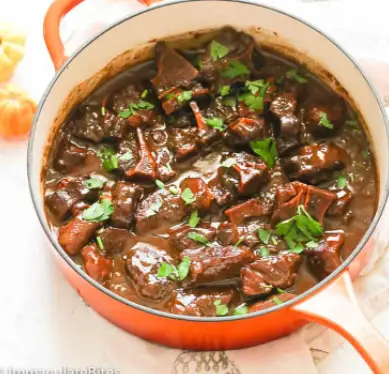 Guyana is considered to be part of the Caribbean region, due to the influence of Indian, African, Amerindian, British, Portuguese, Chinese and Dutch cultures.
One of the tallest wooden churches in the world can be found in Guyana. St George's Cathedral in Georgetown, has a spire that soars up 43 meters (142 feet). It was built in 1899.
In 1978, Guyana witnessed the largest mass suicide in modern history. More than 900 people, including 300 children all died by drinking poison. They were all members of a religious cult, led by American Jim Jones, called the Peoples Temple.
The cheapest mode of transport in Guyana is by mini-bus. Even nowadays in Guyana, there is no railway system or road links to Venezuela.
Guyana is rich in gold and diamonds. One of their old customs is to give new born babies a piece of gold jewelry for good luck. For a girl, it would be gold earrings and bangles, and for a boy, gold rings or bracelets.
The Omai gold mine in Guyana, is one of the largest open gold pit mines in South America.
Guyana is well known for their locally made handcraft, such as costume jewelry, wallets, paintings, handbags, and numerous other items.
The adult literacy rate in Guyana is 86.64%, while the life expectancy is 70.04 years.