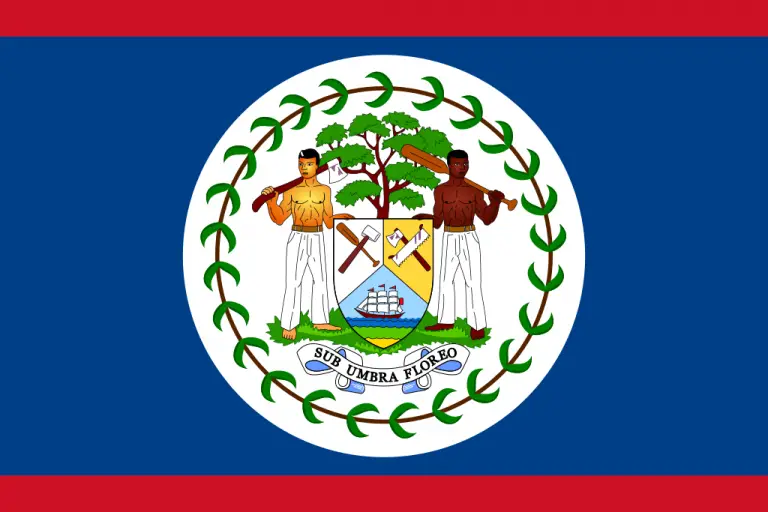 Belize is a small beautiful country located on the Caribbean coast of northern Central America.
Belize is bordered in the north and part of the west by Mexico, on the south and west by Guatemala, and to east by the Caribbean Sea.
Over 50% of Belize's land surface is covered by tropical rainforest, with most of it under government protection.
SHORT FACTS ON BELIZE !!!
OFFICIAL NAME = BELIZE

NATIONALITY = BELIZEAN(S)

LOCATION = CARIBBEAN SEA

CAPITAL = BELMOPAN

CONTINENT = NORTH AMERICA

OFFICIAL LANGUAGE = ENGLISH (SPANISH AND KRIOL)

POPULATION = 398,231 (2020)

CURRENCY = BELIZEAN DOLLARS (BZD)

AREA = 22,966 SQ KM (8,867 SQ MILES)

HIGHEST POINT = DOYLE'S DELIGHT: 1,124 METERS (3,688 FT)

MAIN MOUNTAINS = THE MAYA MOUNTAINS

MAIN RIVER = THE NEW RIVER (RIO NUEVO)

CLIMATE = SUB-TROPICAL (HOT AND HUMID)

CALLING CODE = DIAL 011+501+PHONE NUMBER

DRIVES ON = RIGHT HAND SIDE OF THE ROAD

TIME ZONE = CENTRAL STANDARD TIME (GMT-6 HOURS)

RELIGION = MAINLY ROMAN CATHOLIC + PROTESTANT

INDEPENDENCE = 21st SEPTEMBER, 1981 (FROM UK)

NATIONAL HOLIDAY = INDEPENDENCE DAY, 21st SEPTEMBER

NATIONAL SYMBOL = THE KEEL BILLED TOUCAN (BIRD)

GOVERNMENT = PARLIAMENTARY DEMOCRACY

MAIN SPORTS = FOOTBALL, BASKETBALL, CRICKET AND RUGBY

MAJOR INDUSTRIES = TOURISM, CONSTRUCTION AND GARMENT PRODUCTION

NATURAL RESOURCES = ARABLE LAND, TIMBER, FISH, SUGAR AND BANANAS

AGRICULTURE = BANANAS, COCA, SUGAR, FISH AND CITRUS

MAIN EXPORTS = SUGAR, BANANAS, CITRUS, WOOD AND CRUDE OIL
A BRIEF HISTORY OF BELIZE !!!
The first inhabitants of present-day Belize was an incredibly advanced civilization, called the Maya. They lived in the area for centuries before the arrival of Europeans.
Mayan ruins, some of which are 4000 years old can still be found today in the country's jungles.
From the 1540's, the Spanish tried to claim the land but came up against strong resistance from the Mayans.
The Spanish brought new diseases to the shores, of which the Mayans had no resistance to, leading to a dramatic drop in the population. Over time, the Spanish prevailed and claimed the land.
The first British to arrive on the shores in 1611, were pirates, buccaneers and adventurers. They began to settle on the land in search of valuable wood. The Spanish, who never established a colony were none to pleased of the British squatters, claiming it was their land.
This led to recurring wars between the Spanish and the settlers. The British loggers, also known as baymen, were forced to leave, but always returned.
In 1798, a Spanish fleet tried to overrun Belize and drive out the British baymen.
The baymen and the thousands of slaves they had imported from Africa for the lucrative timber business defeated the Spanish in the battle of St George's Caye, a battle that is still celebrated in Belize up to this day.
From that point on, Britain assumed greater control over the region. Several treaties followed, with Spain giving the baymen greater boundaries to cut logwood and mahogany.
In 1859, the Anglo-Guatemalan Treaty gave Britain sovereignty over the nation.
It became a colony in 1862, and was giving the name "British Honduras." It was now recognized as part of the British Commonwealth.
In 1964, British Honduras was granted self governance, and nine years later in 1973, its official name was changed to Belize.
On the 21st of September, 1981, Belize gained its very own independence. They still maintain strong connections with Britain though, with the British monarch as its head of state.
INTERESTING FACTS ON BELIZE !!!
Belize is a country on the Caribbean coast of Central America. It is bordered in the north and part of the west by Mexico, on the south and west by Guatemala and to east by the Caribbean Sea.
The Belize-Guatemala border is almost a straight line. It stretches 266 kilometers (165 miles) long.
Belize borders the Caribbean Sea to the east, with 386 kilometers (240 miles) of stunning coastline.
The mainland of Belize is approximately 290 km (180 miles) long and 110 km (68 miles) wide.
There are more than 450 offshore islands and cays in Belize, with at least 20 of which are inhabited. They are spread out around the stunning Belize Barrier Reef.
Belize has one of the world's least populated capital cities, Belmopan, with only 16,500 citizens. The largest city is Belize City, which has a population of 57,000 people.
The dry season in Belize happens from February to May, while the wet season is from May to November. The average temperature of Belize is 84°F  or 29° C.
The Maya mountains is a range of peaks which is mainly located in Belize, but also in the eastern part of Guatemala. The highest peak is Doyle's Delight at a height of 1,124 meters (3,688 feet). It is also the highest point in Belize.
The longest river in Belize, the Belize River, is also known as Old River. It stretches 180 miles, or 290 kilometers long.
The waterfalls in Belize are the biggest in all of Central America.
Over 50% of Belize's land surface is covered by tropical rainforest, with most of it under government protection.
The stunning Belize Barrier Reef is the world's second largest, after Australia's Great Barrier Reef. It spans 175 miles along the coastline, intermixed with hundreds of tiny islands and caves.
60 miles east of Belize City, sits the The Great Blue Hole on Lighthouse Reef. It is 300 meters (984 feet) wide, and 130 meters (427 feet) deep. It's the opening to a former Ice Age cave, and is so big you can see it from outer space. It's one of the world's most popular diving sites, full of bright corals, colorful fish and sharks.
Belize's nickname is "The Jewel in the Heart of the Caribbean Basin."
Although Belize is a relatively small country, it has an abundance of wildlife, such as the jaguar and the puma lurking in the country's jungles. Belize has roughly 145 different mammal species living in it's boundaries.
There are 139 different species of reptiles, including over 50 species of snakes, while not forgetting the 500 species of rare and beautiful birds living in it's habitats.
The howler monkey found in Belize, is one of the loudest animals in the world. Their growls can be heard 5 kilometers (3 miles) away. The loudest animal on the planet is actually the sperm whale.
You can snorkel in Belize with a fish that is ten times the size of you. They are called whale sharks, who can grow up to 12 meters (39 feet) in length. But don't worry, they won't eat you.
In Belize they have farms where they grow big green iguanas for food. They call iguana meat, "bamboo chicken."
Belize is a breathtakingly beautiful Caribbean nation, with stunning landscapes, lush rainforests, quaint villages and an abundance of wildlife. That is without their wonderful beaches, that are a right mix of sun, sea, surf and sand.
Belize is well known for it's breathtaking sunsets.
Belize welcomes over a million tourists in a calendar year.
The national dish of Belize is their world-famous rice and beans with potato salad. Another popular dish is rice and beans with stewed chicken, potato salad and fried plantains.
When Queen Elizabeth II visited Belize in 1985, she was served a gibnut, which is a prized game animal of Belize. Some people say it looks like a giant rat without the tail, however it tastes like rabbit.
Belize is the home of El Sisimito, a mystical creature who seemly has backward feet, no knees and eats human flesh.
Belize has around 900 ancient Mayan sites. As a matter of fact, the tallest building in Belize is a Mayan temple.
More than 1000 years ago in Belize, the ancient Maya sacrificed humans to the Gods in the Actun Tunichil Muknal caves. Their bones are still found there today.
In 1961, Hurricane Hattie struck Belize, killing more than 400 people and leaving thousands homeless. The storm brought a 12 foot surge to the mainland, destroying all the buildings near the shore. The small fishing village of Stann Creek had to be completely rebuilt, and subsequently renamed, Hattieville.
The adult literacy rate in Belize is 93%, and the life expectancy is 75 years.
The Belize Defense Force (BDF) is the military force that is responsible for protecting Belize. It was created in 1978, and presently it consists of almost 1,500 active soldiers, and 750 in reserve personnel.
Belize used to be called British Honduras until they changed their name in 1973. Even up to today nobody is quite sure where the name Belize came from.
A picture of Queen Elizabeth II appears on the Belize Dollar.