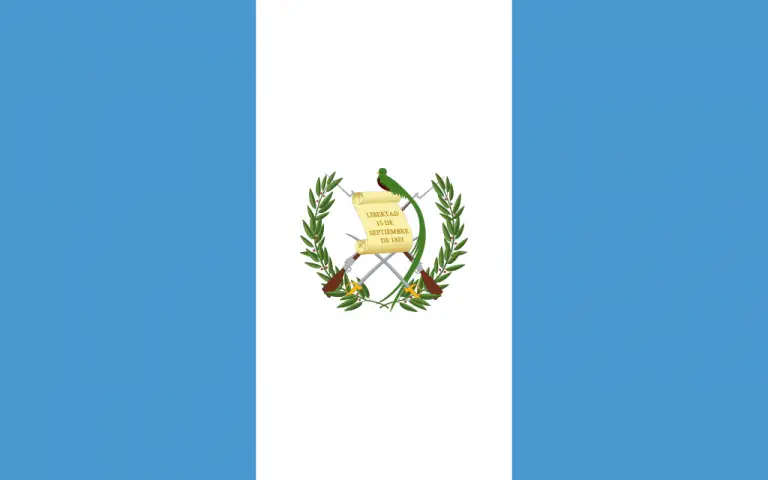 OFFICIAL NAME = REPUBLIC OF GUATEMALA

NATIONALITY = GUATEMALAN(S)

CAPITAL = GUATEMALA CITY

CONTINENT = NORTH AMERICA

POPULATION = 16,910,000 MILLION

LANGUAGE = SPANISH (MAYAN)

AREA = 108,899 SQ KM (42,042 MILES)

CURRENCY = QUETZALES

HIGHEST POINT = VOLCAN TAJUMULCO 4,202 METERS (13,786 FEET)

MAJOR MOUNTAINS = SIERRA DE LAS MINAS AND SIERRA DEL MERENDON

MAJOR RIVER = MOTAGUA RIVER

CLIMATE = TROPICAL CLIMATE

CALLING CODE = DIAL 011+502+NUMBER

DRIVES ON = RIGHT HAND SIDE OF THE ROAD

RELIGION = MAINLY ROMAN CATHOLIC

INDEPENDENCE = SEPTEMBER 15th, 1821 (FROM SPAIN)

NATIONAL HOLIDAY = INDEPENDENCE DAY: SEPTEMBER 15th

NATIONAL SYMBOL = QUETZAL (BIRD)

GOVERNMENT = DEMOCRATIC REPUBLIC

SPORT = FOOTBALL (SOCCER)

MAJOR INDUSTRIES = CHEMICALS, PETROLEUM, CATTLE, SUGAR AND TOURISM

NATURAL RESOURCES = PETROLEUM, HYDROPOWER, NICKEL, FISH AND RARE WOOD

AGRICULTURE = COFFEE, SUGAR, BANANAS, COTTON, HEMP, ESSENTIAL OILS AND CACAO.
SHORT FACTS ON GUATEMALA !!!
Spain ruled Guatemala from as early as the 16th century, when they invaded and overpowered the largest remaining tribe in Guatemala, called the Quiche. Guatemala claimed their independence from Spain in 1821.
The Guatemalan Civil War ran from 1960-1996, which left more than 200,000 dead, leaving many children orphaned. The war was between the government military forces and left-wing guerrilla groups. This long 36 year conflict was well known for violence, abductions, mutilations and the public dumping of bodies.
Today in Guatemala City, you will find a lot of children and young adults living on the streets. They leave their villages at a young age and head to the capital looking for work and many end up selling thrash or begging for food. A lot of children have been left orphaned in Guatemala due to civil war, violence and crime groups.
The Mayans of Guatemala were one of the most advanced ancient civilizations that lived here for thousands of years. You can still visit their ruins nowadays in various cities around the country. The Mayan civilization is still much alive, as more than half the population are modern day Maya,  speaking up to 20 different Mayan languages.
Guatemala is bordered by 4 countries, Mexico, Belize, El Salvador and Honduras. It also borders the Pacific Ocean, and has a short coastline on the Gulf of Honduras in the Caribbean Sea.
Guatemala is home to 37 Volcanoes of which four are still active.
Lake Atitlan in Guatemala, is the deepest lake in Central America. It was formed 85,000 years ago by a volcanic explosion and has depths of around 340 m (1115 ft), and at its widest it's 16 km (10 miles) across.
Many people live in the mountains of Guatemala, living in small isolated villages, some without running water or electricity.
On Nov 6th, 2020, over 150 people died in a landslide in Guatemala after Storm Eta lashed central America with torrential downpours. Most of the fatalities happened in the remote mountain village of Queja. They were buried in their homes under mud.
Guatemala, like any country has their problems, but that does not deter the thousands of tourists that visit the country every year. With ancient ruins, exotic cites, and more than 35 volcanoes, there is plenty to see and do for their visitors.
The ancient Mayans of Guatemala are credited with inventing chocolate. They used chocolate to help sick people feel stronger, by putting weight on. These days you can find chocolate museums, chocolate stores and one can even join in on chocolate classes.
An old Mayan custom that still goes on today in Guatemala, is to sweep out their house every December, and then burn the rubbish to chase off the devil.
Another practice is to give your children "worry dolls", which the children then tell their worries to. They then place it under their pillow when they go to bed. The next morning the doll is gone, along with all their worries.
The Maya temple at Tikal was built well over 1,300 years ago to honor the Maya ruler, Ah Cacaw. These ruins were not discovered until the late 1600's.
In the northeastern part of Guatemala, you will find the Peten region, which covers a third of the country, but only 3% of the population. Peten is where you will find the rainforests, savannas and beautiful Mayan ruins.
The Peten region is home to many animals, including jaguars, tapirs, monkeys, mule deer's and the ocelot. On the forest floors, you will find plants species, such as orchids, ferns, mosses and the bromeliads, which clings on to the massive tree trunks.
The national symbol of Guatemala is the quetzal (bird). It's also the same name as their currency, because ancient Maya used quetzal tail feathers as their money.
The literacy rate in Guatemala is just over 75%, and the life expectancy is 73 years.