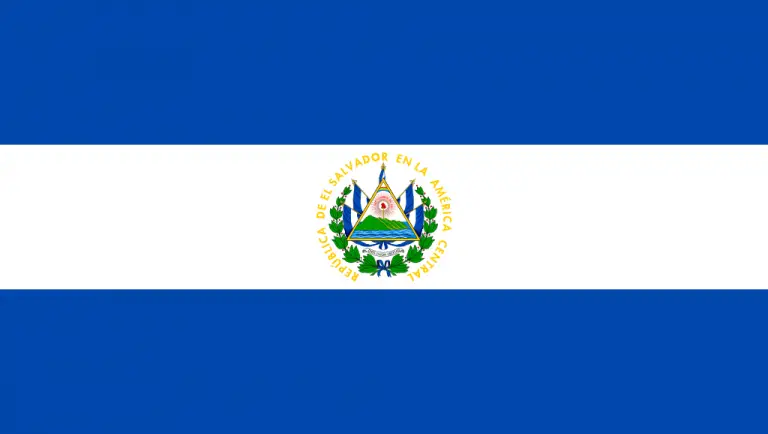 OFFICIAL NAME = REPUBLIC OF EL SALVADOR

NATIONALITY = SALVADORAN(S)

CAPITAL = SAN SALVADOR

CONTINENT = NORTH AMERICA

OFFICIAL LANGUAGE = SPANISH 

POPULATION = 6.45 MILLION

CURRENCY = U.S DOLLARS

AREA = 21,041 SQ KM (8,124 SQ MILES)

CLIMATE = TROPICAL CLIMATE (HOT AND HUMID)

CALLING CODE = DIAL 011+503+PHONE NUMBER

HIGHEST POINT = MOUNT CERRO EL PITAL: 2,730 METERS (8,957 FEET)

MAJOR MOUNTAINS = SANTA ANA VOLCANO AND CERRO EL PITAL

MAJOR RIVERS = GOASCORAN, JIBOA AND TOROLA

RELIGION = MAINLY CHRISTIAN (CATHOLIC, EVANGELICAL PROTESTANTISM)

INDEPENDENCE = 15th SEPTEMBER, 1821 (FROM SPAIN)

NATIONAL HOLIDAY = INDEPENDENCE DAY: 15th SEPTEMBER

NATIONAL SYMBOL = COAT OF ARMS

GOVERNMENT = UNITARY PRESIDENTIAL CONSTITUTIONAL REPUBLIC

NATIONAL SPORT = FOOTBALL (SOCCER)

NATURAL RESOURCES = ARABLE LAND, WATER BODIES, GOLD, IRON AND PETROLEUM

MAJOR INDUSTRIES = CHEMICALS, FERTILIZER, TEXTILES, FURNITURE AND PETROLEUM

AGRICULTURE = COFFEE, SUGAR, CORN, RICE, BEANS, COTTON, BEEF AND DAIRY PRODUCTS.
SHORT FACTS ON EL SALVADOR
El Salvador is Central America's smallest and most densely populated country. It is bordered by the Pacific Ocean in the south, Guatemala in the west and Honduras in the north.
The first inhabitants of El Salvador were the native tribes of the Lencas, the pipils and the Pocomames.
When the Spanish arrived in 1522,  they conquered the land and it would stay under Spanish rule until 1811. This is when a priest called Jose Matias Delgado, led a rebellion against the Spanish forces.  After time, they eventually defeated the Spanish, which led to El Salvador declaring their independence in 1821.
Between 1980 to 1992, El Salvador was caught up in a Civil War which killed more than 70,000 people. It involved guerrilla troops against the government forces, who also had the backing from the United States, over the conditions they lived in.
The bloody war lasted 12 years, until the president of El Salvador and ten guerrilla leaders sat down and signed a peace treaty with the El Salvadoran government. Since that day in 1992, things have slowly changed for the better, although there is still a lot of poverty in the country.
Around half of the population of all Salvadorans live in poverty in the countryside. They have no running water or electricity in their homes, while the wealthy all live in the capital city of San Salvador, in apartments and houses.
While the government of El Salvador has reduced unemployment, especially in the manufacturing industry, it also faces bigger challenges with poverty, crime and natural disasters.
El Salvador sits on the Pacific Ring of Fire, a massive area in the Pacific Ocean where many Earthquakes and Volcanoes occur.
El Salvador is known as the Land of Volcanoes.
El Salvador was named after the Spanish word for "The Savior", in honour of Jesus Christ.
The Cerro El Pital, is the tallest mountain in El Salvador, with a height of 2,730 metres (8956 ft).
The longest river in El Salvador is the Lempa River, which covers a distance of 422 km (262 miles).
The shoreline of El Salvador along the Pacific Ocean stretches a length of 307 km (190 miles), and is regarded as a paradise for surfers.
The national symbol of El Salvador is the turquoise-browned motmot (bird).
Around 79% of Salvadorans are literate, and their life expectancy is 69 years.
The most common dishes in El Salvador are Pupusa and Loroco. The Tamales is also a popular snack, which consists of corn dumplings wrapped in banana leaves.
During the 1969 World Cup qualifying football match between El Salvador and Honduras, the El Salvador government decided to invade Honduras and bombed their airports. Luckily enough this war only lasted less than 100 hours.
If you decide to go to El Salvador and decide to use their buses, you could end up sharing your seat with a chicken or a pig. This is because the locals use the buses to transport their livestock. Tourists call them "chicken buses".