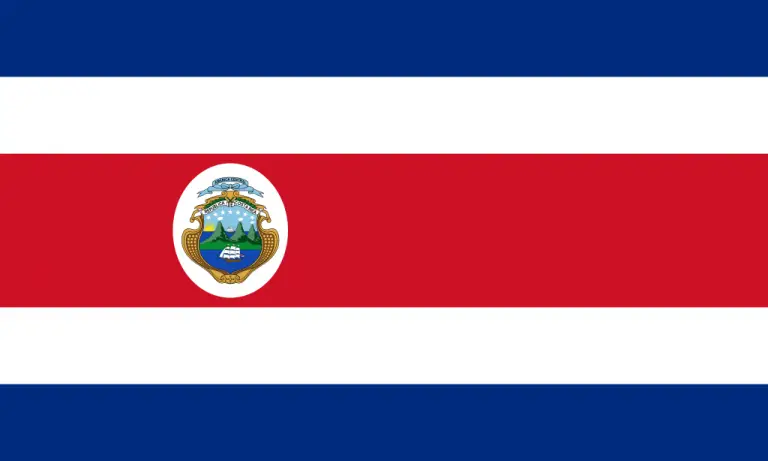 Costa Rica, officially known as the Republic of Costa Rica, is a small country located in Central America between the Caribbean Sea and the Pacific Ocean.
The country is divided up into seven provinces: San Jose, Cartago, Heredia, Alajuela, Guanacaste, Puntarenas and Limon.
Costa Rica is consistently ranked as one of the happiest places on Earth, according to the Happy Planet Index.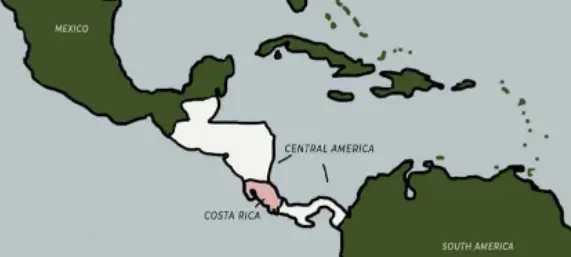 SHORT FACTS ON COSTA RICA !!!
OFFICIAL NAME = REPUBLIC OF COSTA RICA

NATIONALITY = COSTA RICAN(S)

CAPITAL = SAN JOSE

MAJOR TOWNS = ALAJUELA AND CARTAGO

CONTINENT = NORTH AMERICA

LANGUAGE = SPANISH (ENGLISH)

POPULATION = 4,857,274 MILLION

CURRENCY = COSTA RICAN COLONES

AREA = 51,100 SQ KM (19,730 SQ MILES)

HIGHEST POINT = MOUNT CHIRRIPO 3,821 METERS (12,536 FEET)

MAIN MOUNTAINS = CERRO DE LA MUERTE AND MOUNT CHIRRIPO

MAIN RIVERS = REVENTAZON AND SAN JUAN RIVERS

CLIMATE = HOT ALL YEAR ROUND (TROPICAL)

CALLING CODE = DIAL 011+506+PHONE NUMBER

DRIVES ON – RIGHT HAND SIDE OF THE ROAD

TIME ZONE = GMT-6 HOURS

RELIGION = MAINLY CATHOLIC (EVANGELICAL CHRISTIANS)

INDEPENDENCE = SEPTEMBER 15TH, 1821 (FROM SPAIN)

NATIONAL HOLIDAY = INDEPENDENCE DAY, SEPTEMBER 15TH

GOVERNMENT = DEMOCRATIC REPUBLIC

NATIONAL SPORT = FOOTBALL (SOCCER)

MAJOR INDUSTRIES = FOOD PROCESSING, FERTILIZERS, TEXTILES AND CLOTHING

NATURAL RESOURCES = THE AGRICULTURAL LAND AND CLIMATE

AGRICULTURE = BANANAS, PINEAPPLES, COFFEE, SUGAR, RICE, CORN AND POTATOES
A BRIEF HISTORY OF COSTA RICA !!!
When Christopher Columbus first arrived on the shores in 1502, he named the land Costa Rica, which means "Rich Coast" in Spanish.
It is believed he called it this name when he saw the gold worn by the local tribes. Unfortunately for Columbus and for those who followed, there was little gold in the country.
Numerous Spanish expeditions followed, but due to resistance of the natives, the Spanish had to wait until 1561, when Juan de Cavallón led a successful expedition and established the first permanent settlement at Cartago.
As Spanish settlements expanded, so did the exploitation of the natives as an economic resource. The population of the natives plummeted, mainly from mistreatment, and the exotic diseases that the Europeans brought over with them, such as smallpox, to which they had no resistance .
Present-day Costa Rica remained a Spanish colony for almost 300 years.
That all changed in 1821, when Costa Rica, together with many other Central American colonies declared independence from Spain.
After a brief period of rule by Mexico, Costa Rica joined the United Provinces of Central America in 1823, which also included El Salvador, Guatemala, Honduras and Nicaragua.
After a few years of turmoil, the United Provinces of Central America dissolved, leading to Costa Rica issuing a second declaration of independence in 1838.
In 1838, Costa Rica proclaimed itself sovereign and it became an independent country.
COSTA RICA CIVIL WAR !!!
The Civil War that broke out on March 12th, 1948, lasting for 44 days, was a dark period in Costa Rica's history. More than 2,000 lives were lost over accusations of voter fraud during presidential elections.
The government of President Teodoro Picado Michalski was quickly defeated by a rebel army under the command of José Figueres Ferrer.
Since the Civil War of 1948, Costa Rica has had no army, so instead of spending money on military, it wisely spends it on education (schools are free) and health.
Nowadays, Costa Ricans enjoy the benefits of political stability and peace.
INTERESTING FACTS !!! 
Costa Rica is bordered by Panama to the south and Nicaragua to the north. The Pacific Ocean is to the west and the Caribbean Sea is to the east.
The country is divided up into seven provinces: San Jose, Cartago, Heredia, Alajuela, Guanacaste, Puntarenas and Limon.
Costa Rica has over 800 miles (1,287 km) of glorious coastline.
Around 25% of the country has protected rainforests and reserves, which gives tourists more than 100 different protected areas to visit.
While Costa Rica is a rather small country, it is rich with wildlife, with its thick jungles teeming with all kind of animals. There are more than 230 species of mammals, and 900 species of birds to be found here.
Costa Rica is the hummingbird capital of the world, with more than 50 different hummingbird species calling it their home.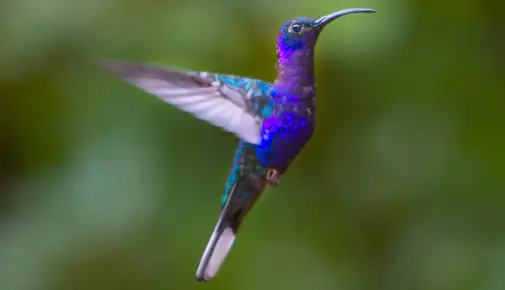 The hummingbird can beat their wings 80 times a second and is the only bird that can fly backwards.
Around 90% of Central America's butterfly species live in Costa Rica.
Scientists reckon there are more than 300,000 different types of insects, and 2000 different types of spiders living here.
The orchid is the national flower of Costa Rica. There is more than 1,200 different species of orchids to be found growing here.
Costa Rica enjoys a tropical climate all year round due to its proximity to the equator. It has no real summer or winter, however it does have a rainy season from May to November. The dry season is from December to April.
Costa Rica, like many other Central American countries, suffers from occasional earthquakes and volcanic eruptions. It has over 100 volcanic formations, with seven of these active.
Arenal Volcano, located in northwestern region of the country, is known as one of the world's most active Volcanoes. It's a major tourist attraction in the country these days.
Costa Rica attracts more than three million tourists every year, making tourism one of the main sources of income for the country.
The ideal time to visit here is from December to April. This is the dry season and the most popular time for exploring rainforests and relaxing on their beautiful beaches.
The national dish of Costa Rica is "gallo pinto," which is a mix of black beans, white rice and salsa lizano.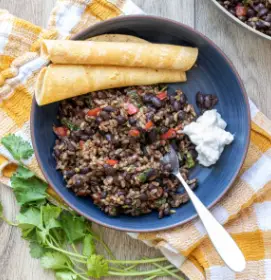 The country is famous for their gourmet coffee beans, thanks to their rich volcanic soil. They are considered to be among the finest beans in the world.
Óscar Arias Sánchez is the most famous person in Costa Rican history. He won the Nobel Prize in 1987 for his efforts to end civil wars, which was happening at the time in several other Central American countries. He was also President of the country from 1986 to 1990, and from 2006 to 2010.
Costa Rica is consistently ranked as one of the happiest places on Earth, according to the Happy Planet Index. Costa Ricans love to drink beer and dance, making it a nation of laid back, friendly, happy people.
The adult literacy rate in the country is 96% and the life expectancy is 79 years.
Costa Ricans refer to themselves as "Ticas" (females) and "Ticos" (males). Foreigners are sometimes called "Gringos" (males) and "Gringas" (females).
Flight times to San Jose, from London (11 hours), Sydney (15 hours) and New York (5 hours).
The Costa Rican football team qualified for the World Cup for the first time in 1990. It was held in Italy and they made it to the last 16. Since then, they have competed in 3 more world cups. In Brazil, 2014, they had their best tournament ever, when they finished top of their group that consisted of three heavyweights in world football, England, Italy and Uruguay, before losing on penalties to the Netherlands in the Quarter-finals.
The nickname of the national football team is "Los Ticos."
While Costa Rica has had no permanent standing army since the Civil War in 1948, it does however maintain small forces capable of law enforcement.
Costa Rica, like the United States, holds elections for its presidency every four years.