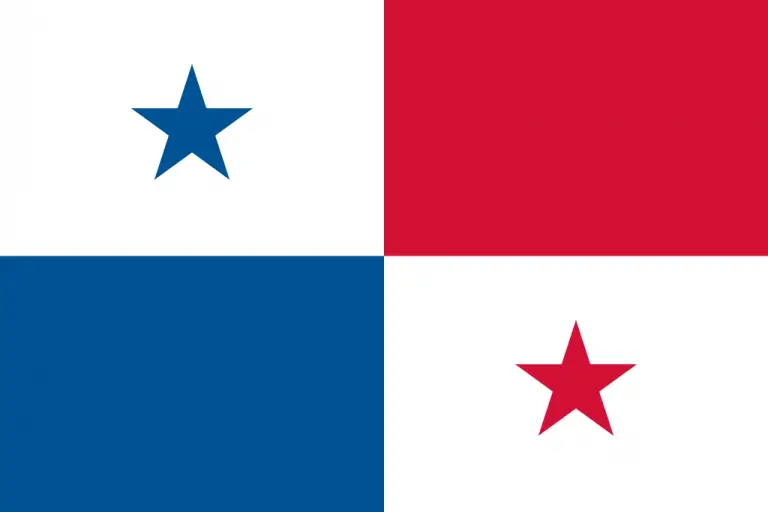 OFFICIAL NAME = REPUBLIC OF PANAMA

NATIONALITY = PANAMANIAN(S)

CAPITAL = PANAMA CITY

CONTINENT = NORTH AMERICA

OFFICIAL LANGUAGE = SPANISH (ENGLISH)

POPULATION = 3,661,868 MILLION

CURRENCY = PANAMANIAN BALBOA (AMERICAN DOLLAR)

AREA = 75,420 SQ KM (29,120 MILES)

HIGHEST POINT = VOLCAN BARU: 3,475 METERS (11,401 FEET)

MAJOR MOUNTAINS  = CORDILLERA DE TALAMANCA AND SERRANIA DE TABASARA

MAIN RIVERS = TUIRA AND RIO CHAGRES

CLIMATE = TROPICAL HOT AND HUMID

CALLING CODE = DIAL 110+507+PHONE NUMBER

DRIVES ON = THE RIGHT HAND SIDE OF THE ROAD

RELIGION = ROMAN CATHOLICISM

INDEPENDENCE = NOVEMBER 28TH, 1821 (FROM SPAIN)




NOVEMBER 3RD, 1903 (FROM COLOMBIA)

NATIONAL HOLIDAY = INDEPENDENCE DAY 3RD NOVEMBER

GOVERNMENT = CONSTITUTIONAL DEMOCRACY

NATIONAL SPORT = BASEBALL (FOOTBALL)

NATURAL RESOURCES = HYDROPOWER, COPPER, MAHOGANY AND SHRIMP

MAJOR INDUSTRIES = CONSTRUCTION, SUGAR MILLING AND AGRICULTURE

AGRICULTURE = BANANAS, COCOA BEANS, COFFEE, COCONUTS, CORN, POTATOES, BEEF AND TIMBER
A BRIEF HISTORY OF PANAMA !!!
Panama was originally settled by Chibchan, Chocoan and Cueva peoples prior to the arrival of European settlers. They lived in small huts made of palm leaves and lived mainly by hunting, growing corn, cacao and root crops.
In 1513, Spanish explorer, Vasco Nunez de Balboa claimed the land for their king. It took a further 6 years for the Spanish to begin colonizing Panama.
For almost 300 years, Panama remained a colony of the Spanish Empire.
In 1821, Panama became independent of Spain and joined up with Ecuador, Venezuela, and Colombia to form the Republic of Gran Colombia.
Even though this partnership broke up in 1830, Panama stayed part of Colombia.
On Nov 6th, 1903, Panama declared its independence from Colombia and signed a Treaty with the U.S.
The terms of the treaty contained that the U.S.A would receive a stretch of their land. On this land, they would build a canal to be used to cross Panama. This would allow boats to sail across the Atlantic Ocean and the Pacific Ocean, without having to travel right around the South American continent.
In 1914 the United States finished the construction of the Panama Canal, and in 1999, they passed over full control of the canal into the hands of the Panamanian government.
Although the building of the canal was a major achievement and saved some boats 13,000 km off their journeys, unfortunately more than 25,000 people died during the construction. The canal stretches 51 miles across the country, and it cost around $380 million at the time.
SHORT FACTS ON PANAMA !!!
Panama is a country in Central America, it borders both the Caribbean Sea and the Pacific Ocean, between both Colombia and Costa Rica.
On the 20th December, 1989, the United States invaded Panama, and arrested the Panamanian leader and military dictator Manuel Noriega. He was later found guilty on eight counts of drug trafficking, racketeering and money laundering. He was sentenced to 40 years in a federal prison. He died aged 83, on May 29th, 2017, after suffering complications during surgery for a brain tumor.
Panama is one of seven countries in Central America. The other six are Belize, Costa Rica, El Salvador, Guatemala, Honduras and Nicaragua.
Panama is a beautiful country, with stunning landscapes and is covered in dark, mysterious rainforests. It's lush jungles are home to many tropical plants, animals and birds, some of which you would never find in any other place in the world.
The Panama rainforest is the second largest rainforest on the American continent, after the Amazon rainforest.
In Panama, you'll find five of Central America's six big cats, pumas, ocelots, margays, jaguars and the jaguarundis.
There are more than 970 species of birds in Panama, more than the U.S.A and Canada combined.
There are over 1500 different types of trees growing in Panama.
In Panama's reefs, there are large tropical fish populations to be found, along with whale sharks, sperm whales and bottlenose dolphins.
Panama is also home to the, tree toed sloth, tapirs, anteaters, bats, monkeys and the the strawberry poison-dart frog, which is too poisonous to even touch, as their skin oozes a deadly toxin, which comes from the insects it eats.
Panama City is the only city in the world that has a rainforest within it's city limit.
Panama is a very popular tourist destination, and is a favorite place for retirees, with its beautiful landscape's, festivals and cuisine.
The largest mountain range in Panama is the Cordillera Central, where it's only Volcano is located, named "Volcan Baru".
Panama City is now the wealthiest city in Central America, mainly due to the Panama Canal. The city is a center for international business and trade.
The Panama Canal is one of the Seven Industrial Wonders of the World.
Panama is the only country in the world where you can watch the sun rise on the Pacific Ocean, and then watch it set on the Atlantic Ocean.
In the same day in Panama, you can swim in the Atlantic Ocean and the Pacific Ocean, as the country is shaped like the letter S. Only 80 kilometers separate the Atlantic from the Pacific Ocean at the narrowest point.
Panama has more than 2,490 kilometers (1,500 miles) of coastline, with some of the most pristine beaches in the world.
In local language, Panama means, "place of fishes". It makes sense when you see how long the coastline is.
The famous Panama hat does not come from Panama, it actually comes from Ecuador.
Children in Panama go to school from the ages of 7 to 15.
92% of adults can read in Panama, and they can expect to live to 79 year of age.
The massive harpy eagle is Panama's national bird.
Flight times to Panama City from, New York, roughly takes 5.5 hours, from London, it roughly takes 11 hours, and from Sydney, it will roughly take around 21.5 hours.