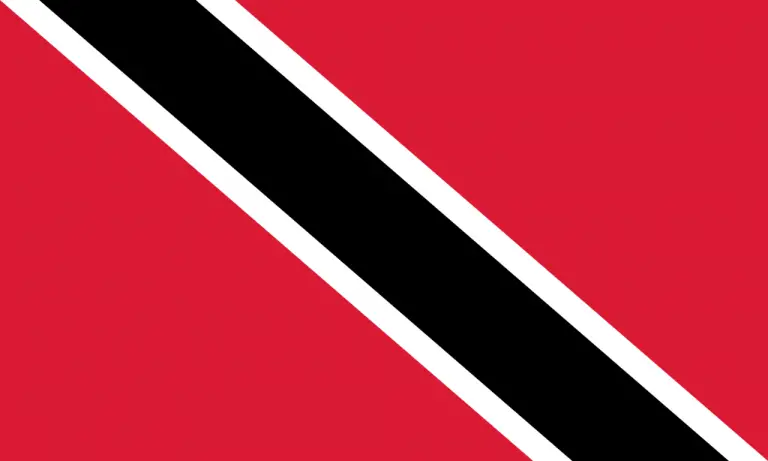 Trinidad and Tobago is a twin island nation situated in the Caribbean Sea, off the northeast coast of Venezuela.
Although they are located just off-shore from South America, Trinidad and Tobago is often regarded to be part of the North America continent, by virtue of them being a Caribbean country. Trinidad and Tobago gained independence from British rule in 1962.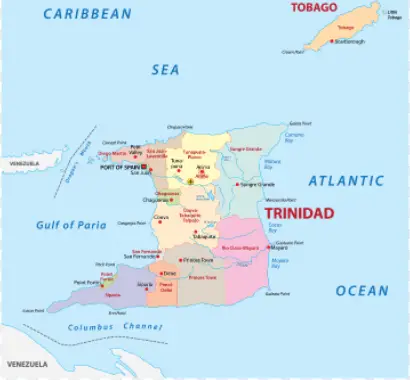 SHORT FACTS ON TRINIDAD AND TOBAGO !!!
OFFICIAL NAME = REPUBLIC OF TRINIDAD AND TOBAGO

NATIONALITY = TRINIDADIAN(S), TOBAGONIAN(S)

LOCATION = CARIBBEAN SEA

CAPITAL = PORT-OF-SPAIN

CONTINENT = SOUTH AMERICA

OFFICIAL LANGUAGE = ENGLISH

POPULATION = 1,3869,000 MILLION (2019)

CURRENCY = TRINIDAD AND TOBAGO DOLLARS

AREA = 5128 SQ KM (1980 SQ MILES)

HIGHEST POINT = EL CERRO DEL ARIPO: 940 METERS (3,084 FEET)

MAIN RIVERS = THE ORTOIRE AND THE CARONI

CLIMATE = TROPICAL: RAINY SEASON (JUNE-DECEMBER)

CALLING CODE = DIAL 011+868+PHONE NUMBER

DRIVES ON = LEFT HAND SIDE OF THE ROAD

RELIGION = MULTI RELIGIOUS NATION

INDEPENDENCE = 31st, AUGUST 1962 (FROM UNITED KINGDOM)

NATIONAL HOLIDAY = INDEPENDENCE DAY: 31st AUGUST

GOVERNMENT = PARLIAMENTARY DEMOCRACY

MAIN SPORT = CRICKET AND FOOTBALL

NATURAL RESOURCES = PETROLEUM, NATURAL GAS, AMMONIA AND ASPHALT

MAJOR INDUSTRIES = TOURISM, PETROLEUM, CHEMICALS  AND COTTON TEXTILES

AGRICULTURE = COCOA, BANANAS, COFFEE, VEGETABLES AND RICE

MAIN EXPORTS = PETROLEUM, NATURAL GAS, STEEL PRODUCTS, SUGAR, METHANOL, AMMONIA, CEREAL, COFFEE AND VEGETABLES

MAIN IMPORTS = CRUDE PETROLEUM OILS, IRON ORES, CONCENTRATES AND VEHICLES FOR TRANSPORT OF GOODS AND PEOPLE.
A BRIEF HISTORY OF TRINIDAD AND TOBAGO !!!
The original inhabitants of the islands were the Carib and Arawak people.
Christopher Columbus discovered the island of Trinidad, which he aptly named on his third voyage in 1498.
By 1511, the Spanish had colonized the island, using the natives as slaves to work on its plantations. Most of them died from hardship, violence and infectious diseases, that was brought over by the Europeans, to which they had no immunity.
To enable the plantation economy to develop, the Spanish shipped in thousands of slaves from Africa to continue the grueling physical labor.
During the 17th century, the island was raided by the French, Dutch and the English, however, despite their best efforts the island remained under Spanish control. That all changed in 1797, when the British seized the island from the Spanish.
The island of Tobago, like its neighbor Trinidad, was also spotted by Christopher Columbus, and for decades the English, French and Spanish fought for the land. Eventually the British took control of Tobago in 1814, and in turn annexed it to Trinidad in 1899.
Trinidad and Tobago became independent from the British in 1962, and in 1976, it was officially named the Republic of Trinidad and Tobago.
INTERESTING FACTS ON TRINIDAD AND TOBAGO !!!
Trinidad and Tobago are two individual islands, however they are treated as one country. In fact, up until 1899, they were classed as two different nations.
The Republic of Trinidad and Tobago is a twin island nation in the south Caribbean Sea, consisting of two big islands, Trinidad and Tobago, and many smaller ones.
The capital of Trinidad is Port-of-Spain, and the capital of Tobago is Scarborough.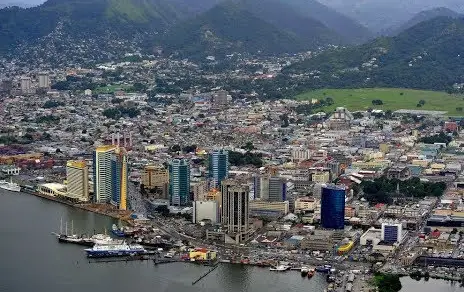 Trinidad was named by Christopher Columbus in 1498, and Tobago got it's name because it looked like a tobacco pipe (tavaco) used by the local natives.
Trinidad and Tobago lies northeast of Venezuela, and south of the island nation of Grenada.
The twin island nation shares maritime boundaries with Guyana to the southeast, and Barbados to the northeast.
People from all around the world has made Trinidad and Tobago their home, leading it to be called the "Rainbow Country", due to the fact that there is so many different cultures living together.
Trinidad measures 37 miles (60 km) by 50 miles (80 km), while Tobago measures 26 miles (42 km) by 7 miles (11.5 km). They are both separated from each other by the Caribbean Sea. The distance between each island is 21 miles (33 km).
The general terrain of Trinidad and Tobago is one of mostly plains with some hills and low mountains.
The climate of Trinidad and Tobago is tropical, hot all year round, with little seasonal variation.
Tobago is home to the world's largest brain coral, measuring 3 meters (10 feet) by 5 meters (16 feet) in size. It is located at the popular diving and snorkeling spot of Speyside.
A brain coral gets it's name due to their generally spheroid shape and grooved surface which resembles a brain. They are found in shallow warm-water coral reefs in all the world's oceans.
Trinidad and Tobago offers a wealth of vibrant wildlife, such as the leatherback turtle, the manatee, howler monkeys, the gold macaw, the agouti, the anteater, the armadillo, the capuchin monkey, the ocelot, the opossum and many more.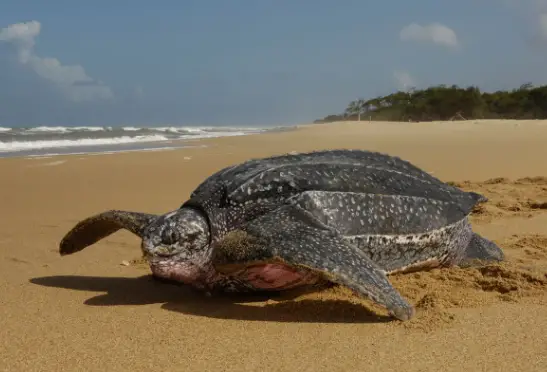 Whale sharks, southern stingrays, the Atlantic spotted dolphin and the weird looking manta ray, are all to be found patrolling the waters off the coast of Trinidad.
Trinidad alone has more than 400 bird species, which is more than any other Caribbean island.
Trinidad and Tobago is a prime destination for bird watchers.
The green anaconda, one of the largest snakes in the world, can be found in Trinidad's jungles. They can easily grow as long as 5 meters (16 feet), and weigh up to 100 kg (220 lb). They have been known to swallow down a fully sized goat.
Trinidad and Tobago has the second largest leatherback turtle nesting site in the world.
Trinidad and Tobago is home to the world's oldest protected rainforest. The Tobago main ridge forest reserve was established on April 13, 1776, and has an area of around 4000 hectares. It is recognized by UNESCO as a World Heritage Site, and is home to a huge array of flora and fauna.
Trinidad and Tobago won the 2015 UK Telegraph Caribbean Travel Award for the best destination for a nature holiday.
Tobago has won numerous awards as a top destination for echo-tourism.
With fabulous beaches and beautiful weather, it is easy to see why Trinidad and Tobago is the Caribbean's happiest country, according to The World Happiness Report.
Trinidad and Tobago is one of the most developed and wealthiest countries in the Caribbean. Petroleum and tourism plays a major part in it's thriving economy.
A popular tourist attraction in Trinidad is the Pitch Lake, in the town of La Brea. With depths of about 250 feet, and occupying an area of nearly 100 acres, it contains the World's largest natural deposit of asphalt, possibly 10 million tons of it.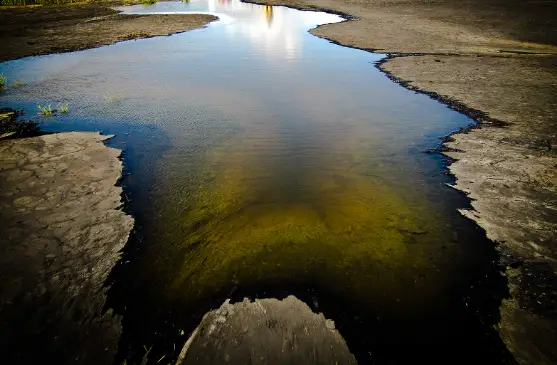 The first black women to win the Miss Universe Pageant was from Trinidad and Tobago. It was in 1977, and her name is Janelle Penny Commissiong.
The limbo dance contest originated in Trinidad and Tobago.
Trinidad and Tobago is the birthplace to many forms of music, such as the calypso, the soca and the chutney.
The steelpan drums you hear during carnival time in Trinidad and Tobago, were developed here in the 1930's. They were originally made from empty oil drums.
The people of Trinidad and Tobago love to party, often holding colorful carnivals. For instance, they have the biggest celebration of Diwali in the entire Western Hemisphere, which is attended by thousands of foreign tourists every year. Their carnivals are known world-wide as The Greatest Shows on Earth.
Diwali is a five-day festival of lights, celebrated by millions of Sikhs, Hindus and Jains across the world.
Curried crab and callaloo is considered the national dish of Trinidad and Tobago. Pelau, stewed chicken, sweet potatoes, dumplings, macaroni pie and ox-tails are other popular dishes.
The Trinidad scorpion is regarded as one of the hottest chilies in the world by the Guinness Book of World Records.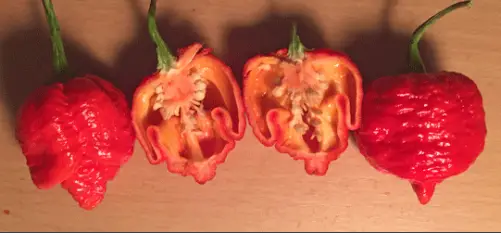 Goat racing is very popular in Trinidad and Tobago, and like horse racing, it has goat stables and trainers. Races are held on Easter Tuesday every year.
The classic 1960's film Swiss Family Robinson was shot entirely on location in Tobago.
Education is free in Trinidad and Tobago, leaving the islands with a literacy rate of 98%, which is higher than the United States.