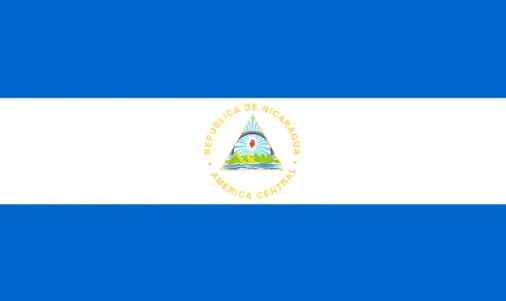 Nicaragua is the largest country in Central America, bordering both the Caribbean sea and the North Pacific Ocean. The country shares a land border with Costa Rica to the south and Honduras to the northwest. It also shares maritime borders with El Salvador and Colombia.
Nicaragua is divided into three regions, the North Central Highlands, the Pacific Lowlands and the Atlantic Lowlands. Managua is the country's capital and largest city. Nicaragua is a beautiful country with many lakes and volcanoes.
SHORT FACTS ON NICARAGUA !!!
OFFICIAL NAME = REPUBLIC OF NICARAGUA

CAPITAL = MANAGUA

NATIONALITY = NICARAGUAN(S)

CONTINENT = NORTH AMERICA

OFFICIAL LANGUAGE = SPANISH

POPULATION = 6,328,008 MILLION

CURRENCY = CORDOBAS

AREA = 130,370 SQ KM (50,336,SQ MILES)

CLIMATE = TROPICAL CLIMATE (COOLER IN HIGHLANDS)

CALLING CODE = DIAL 011+505+PHONE NUMBER

DRIVES ON = RIGHT HAND SIDE OF THE ROAD

HIGHEST POINT = PICO MOGOTON: 2,106 METERS (6,909 FEET)

MAIN MOUNTAINS = CORDILLERA ISABELLA RANGE

MAIN RIVER = TIPITAPA RIVER

RELIGION = MAINLY CATHOLIC (EVANGELICAL PROTESTANT)

INDEPENDENCE = SEPTEMBER 15th, 1821 (FROM SPAIN)

NATIONAL HOLIDAY = INDEPENDENCE DAY : SEPTEMBER 15th

GOVERNMENT = UNITARY PRESIDENTIAL CONSTITUTIONAL REPUBLIC

GDP = $11.26 BILLION

NATIONAL SPORT = BASEBALL

MAJOR INDUSTRIES = CHEMICALS, FOOD PROCESSING, METAL PRODUCTS, TEXTILES, PETROLEUM, FOOTWEAR AND WOOD

NATURAL RESOURCES = TUNGSTEN, GOLD, SILVER, COPPER, LEAD, ZINC AND FISH

AGRICULTURE = TOBACCO, SESAME, BEANS, CORN, RICE AND SORGHUM
A BRIEF HISTORY OF NICARAGUA  !!!
Nicaragua was first discovered by Europeans, when Christopher Columbus spotted it on his fourth voyage in 1502.
Nicaragua was originally inhabited by various indigenous cultures since ancient times. When the Spanish first arrived in 1522, they encountered tribes speaking dialects of the Aztec and Mayan languages.
By 1524, Spanish conquistador Francisco Hernandez de Cordoba had established the permanent settlements of Granada and León, despite Indian resistance.
Many of the Indians died from infectious diseases that was brought over by the Europeans, mainly smallpox, to which they had no immunity. Others were sold into slavery.
On Sept 15th, 1821, Nicaragua achieved independence from Spain, along with the rest of the Central American colonies.
After a brief period of rule by Mexico, Nicaragua joined the United Provinces of Central America in 1823, which also included Costa Rica, Honduras, El Salvador and Guatemala.
After a few years of turmoil, the United Provinces of Central America dissolved, leading to Nicaragua issuing a second declaration of independence in 1839.
INTERESTING FACTS  !!!
In the 17th century, the Mosquito Coast was under British rule. They shipped in thousands of African slaves to work in the sugar plantations. In present day Nicaragua and Honduras, many of the inhabitants are descendants of these slaves.
Mosquito Coast included the eastern coast of present-day Nicaragua and Honduras.
Britain occupied a section of this country in 1895, but left after being paid indemnities by the Nicaraguan government.
Nicaragua is named after Nicaro, who was the chief of a tribe who lived near Lake Nicaragua hundreds of years ago.
There are more than 400 Volcanoes found in Lake Nicaragua.
Lake Nicaragua is more like a sea than a lake due to it's vast size. It also has it's own waves, islands and sharks.
Nicaragua is divided into three regions, the North Central Highlands, the Pacific Lowlands and the Atlantic Lowlands.
It is the largest country in Central America. The other countries that make up Central America are, Belize, Costa Rica, El Salvador, Guatemala, Honduras and Panama.
The country is prone to natural disasters, such as, hurricanes, earthquakes, volcanic explosions and landslides.
Nicaragua is a popular tourist attraction, despite the fact that much of the country still lives in poverty. The President has vowed to use tourism as a way to counter the poverty throughout the country. It has a lot to offer tourists, with it's beautiful beaches, nature, architecture and it's many lakes and volcanoes. It also boasts 565 miles of picturesque coastline.
In 1972, an Earthquake hit the capital of Nicaragua, killing over 19,000 people, and destroying most of the cities infrastructure.
Nicaragua has the second largest rainforest in the Americas, next to the Amazon Rainforest.
The forests here are home to many different species of animals, such as, jaguars, monkeys, wild boars, snakes, anteaters, armadillos, shy ocelots, while they also boast five of the world's forty species of toucans.
Three-toed sloths live in the forests of Nicaragua. They can only move at a speed of six feet per minute. They are so slow that algae grows on them.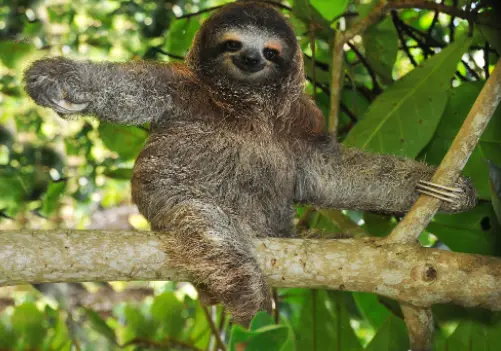 Every year on the same beach in Nicaragua, hundreds of thousands of sea turtles dig their nests and lay their eggs. These turtles can live for up to 80 years. Unfortunately, thousands are also killed each year, because people eat them as meat and steal their eggs, making them an endangered species.
There are more than 70 protected areas of land in Nicaragua, to help preserve the habitats of it's endangered species.
The Caribbean coast of Nicaragua was once ruled by Great Britain, so the English language and traditions are very noticeable there.
The literacy rate here is 68% and the life expectancy is 69 years.
The country is also called the "Land of Poets", because poetry is very popular in the country. Their poets are national heroes.
The national symbol of Nicaragua is the turquoise-browned motmot (bird).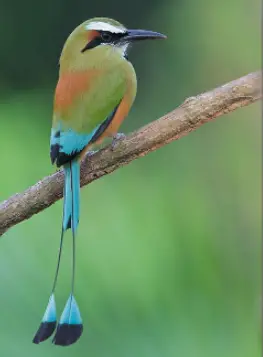 It's natural resources are gold, silver, copper, tungsten, lead, zinc, timber and fish.
Nicaraguan food mainly consist of corn, rice, beans, peppers and seafood.